A Company Dedicated to Sales Enablement
Our story
We're a SaaS company that's passionate about helping organizations improve sales execution and streamline productivity. Through our sales enablement solutions, we give companies a way to enhance the key revenue-generating activities that have the biggest impact on sales success—planning, preparing and engaging buyers.
We got our start in 1990 as a specialized presentation management solution. We've come a long way since then, expanding our products and services to become the global leader in sales enablement technology. Now, unlike any other sales enablement software vendor, our products are used by companies in more than 100 countries around the globe.
Accent's company success is all due to our team of talented and creative employees. At Accent, we work hard and we play hard. Our philosophy is that when you enjoy what you do, you're going to do it well. That's why we try really, really hard to make Accent a fun and exciting place to work.
To learn more about what it's like to be part of the Accent team, visit our careers page.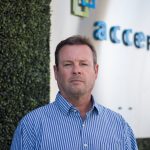 Pete McChrystal
President & CEO
The founder of Accent Technologies, Pete's vision for sales enablement has led Accent Technologies to become the global leader in sales enablement technology. Under Pete's leadership Accent has acquired many large cap clients such as Goldman Sachs, UBS, WebMD, Lockheed, Siemens, McKesson, DHL, Bank of New York, Trip Advisor, William Blair, AMD, Goodyear, and Analog Devices among many others. Pete is also a former infantry officer and graduate of the US Military Academy at West Point.
John Fakatselis
Chief Operating Officer
Guided by the sales enablement principles that drive Accent's products and services, John oversees the key operations that culminate in Accent Technologies' success as a company. After graduating from UCF, John joined Harris Corporation and managed a series of advanced "black ops" engineering research projects resulting in multi-million dollar government contracts. He was selected to be the top engineer for the commercial wireless radio-in-silicon project that today we know as Wi-Fi.
Sean Callahan 
Chief Client Officer
Sean oversees our client success team strategy and performance. He holds an undergraduate degree from West Point and a master's from Johns Hopkins University. Sean brings extensive leadership and consulting experience to Accent, based on 26 years as an infantry officer and 7 years in corporate management positions. Prior to Accent, Sean was a consultant with Booz Allen Hamilton.
Dan Lepke
VP of Sales
Dan oversees all aspects of sales and sales operations. Dan has deep experience at enterprise companies and has an innate understanding of purchase, implementation and management of SaaS sales productivity software. Dan brings over 20 years of experience in various sales, sales enablement and sales management roles at IBM, Cognos, Sermo, Influitive and Brainshark.
Andres Quintana
VP Partnerships and Alliances
Andy oversees all aspects of strategic partnerships and on-boarding. With an extensive background in onboarding, training and developing sales teams, Andy brings over 14 years of experience in various sales, sales enablement, and sales management roles at IBM including Cloud and Cognitive technical leader, Technical Business Leader, and Technical Sales Manager.
Aaron Raymo
Director of Marketing
Aligning marketing ideas with company growth goals, Aaron is focused on advocating Accent's visionary thinking and innovative technology within the sales enablement space. His previous role was Director, Demand Generation at TriNet where he spearheaded key marketing efforts during their IPO. Aaron brings over 15 years of marketing experience to Accent.
Our philosophy on B2B sales
The situation
It's hard out there for B2B companies. Quotas are higher, budgets are tighter and buyers are expecting more and more.
Sales and marketing teams are trying to engage with buyers and sharpen sales execution, but the average company simply doesn't have the visibility and resources needed to strategically approach improvement.
Here's the big problem: Most sales tools (especially CRM) don't help B2B sales reps sell, and they certainly don't help both sales AND marketing. They don't help teams plan, prepare and engage with buyers comprehensively and systematically.
The answer
A scientific, data-driven approach to B2B selling—one that provides real insight and surfaces the right priorities, resources and coaching at the right time through innovative technology.
Technology that improves productivity and gets reps focusing on high-value selling activities. Technology that brings marketing into the game so they can directly impact revenue generation. Technology that stands out with prospects and simplifies the buying process.
That's our philosophy on B2B sales. That's why we do what we do.