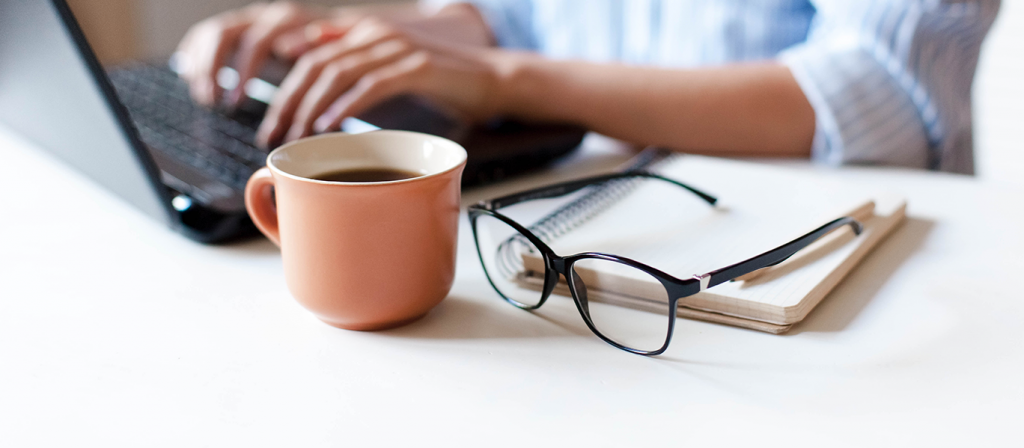 Accent Technologies
Creating an Effective Game Plan with Sales Battle Cards
When it comes to closing a sale, your team must anticipate and respond to your customers' needs in an instant. In order to do that, they need strategic guidelines keeping them one step ahead at all times — and that's where sales battle cards come into play. With battle cards your team can gauge the competitive landscape and help customers complete their purchase with confidence.
But to create and use battle cards effectively, there are some things you need to know. Use this guide to equip your sales team with the most effective tool they will use in their careers.
What are Battle Cards?
Sales battle cards are single-page snapshots of how your brand stacks up to key competitors. Having one card for each competitor will prepare your team to close sale after sale.
As your clients move through the buyer's journey, they have a lot of questions and objections that prevent them from diving in and completing the sale. Battle cards prepare your sales team to respond to those concerns in a measured way to help your clients move forward. With a glance at the cards, clients can gaze upon the competitive landscape and gain the sure footing they need to provide the right level of support for the project.
The cards should visually pit your company against your main competitors, showing why customers should complete their purchase with you. They also need to briefly compare and contrast your most popular products to similar offerings from your competitors.
Why Do We Need to Play Battle Cards?
Without sales battle cards, your team may not understand why customers are hemming and hawing about the deal. They need to see your products against the other options on the market to easily highlight why your offer is the best value. Otherwise, they could get caught off guard by questions and challenges raised by clients in conversation.
Battle cards also keep everyone on your sales team on the same page through each interaction. Customers will receive a cohesive brand message with every contact, helping them see why your company is the best in the industry. This will create a sense of familiarity that makes them much more likely to buy your products instead alternative offerings.
Subscribe to Accent's Blog
Get Accent's latest sales enablement articles straight to your inbox.
Importance of Understanding the Competitive
No matter what industry you are in, the competitive landscape is always moving at breakneck speed. As your competitors shift their approach, you may also need to make some key changes in how you sell your products. Otherwise, your sales team could quickly get left in the dust as your competition pulls ahead by making strategic moves. With a daily review of the sales battle cards, your team can always stay ahead of the game in creating lasting connections with your customers.
Why You Must Teach Your Team How to Sell Tactically
Without the right approach, sales teams cannot connect with clients in a meaningful way and provide them with the best buying experience. Without that connection, the competition can swoop in and persuade wayward customers to complete their buyer's journey with them instead.
To avoid that scenario, it is important that sales teams think and sell tactically rather than simply comparing product features and benefits. Well-made battle cards can assist in that process by providing actionable tips to use during sales calls and beyond. The tips may center around why happy buyers choose your brand over the rest. They can even describe potential pitfalls to avoid along the way.
When you make it a priority to help your sales team understand the competitive landscape and sell tactically, then they can overcome the barriers to success and close more deals than ever before.
A Look at the Best Practices for Battle Cards
Sales battle cards are only effective when they make all the right info and tips available at a glance. Cluttering them with too much info can backfire, so make sure to think strategically in their creation.
To best help your sales team, the cards should include an overview of:
Your top products and similar ones from your competitors
Each model's features and how they differ from the rest
Compelling statistics about your product benefits
Strengths and weaknesses of both brands
The cards should also provide strategic tips on how to convince everyone your products are better than the competitors' offerings. Create a battle card template with these outlined areas to easily overshadow each competitor.
In order to ensure the info is easy to understand and applies to the situation at hand, the cards must go beyond text to include graphics, photos, and videos. Above all, the stats and facts should be  easy to understand and a cinch to remember. Creating the cards is only half of the battle. You must also teach your team how to best use them — and when to bring them into the fray.
For best results, it is ideal to have the team look over the cards before interacting with clients. This may mean sitting down for a review right at the beginning of their shift, or even multiple times throughout the day. They can also note the times they falter during customer interactions and refer to the cards to overcome those missteps in preparation for the next conversation.
Measure your sales team's engagement with the cards by measuring the view count on a regular basis. Then, compare it to your conversion rate to determine if the battle cards are a helpful resource.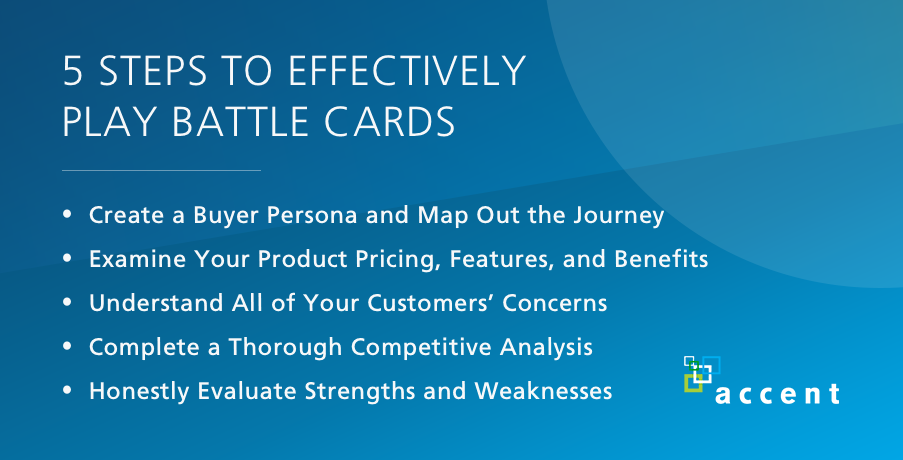 How to Effectively Play Battle Cards
To create truly effective battle cards for your sales team, you must first follow these steps:
• Create a Buyer Persona and Map Out the Journey
You will not get far without truly understanding your target audience and their buyer's journey. If you do not yet have a buyer persona or have not had a chance to map out their journey, take this time to do so.
The persona will tell you who your customers are and what they want from your company. It will teach you how to best interact with those individuals, including where to find them and what approach works best in building connections.
The buyer's journey goes one step further by showing you their motivations, challenges, and actions through the awareness, consideration, and decision stages. You can then give your sales team a heads up on how to respond appropriately through each stage as they work on closing the deal.
• Examine Your Product Pricing, Features, and Benefits
Although it is not the be-all-end-all of the sales battle cards, products pricing, features, and benefits need to sit front and center to help your team move through each interaction. Prospective clients want to know what products you have, how their features meet their needs, and the benefits of choosing your items over the competitors' products. So, sit down and list all that information in detail to make it easy to create a short overview for your cards.
• Understand All of Your Customers' Concerns
Even when provided with the ideal level of support, customers will come with up a dozen reasons why they should avoid completing the purchase. For example, they may have heard negative things online about one of your products, or simply face roadblocks that prevent them from committing. By figuring out what these concerns might be, you can arm your sales team with tactics that help overcome the main objections and keep them on the path toward closing the sale.
• Complete a Thorough Competitive Analysis
The only way to help your sales team understand the competitive landscape is to complete an in-depth analysis of all your main competitors. You must look at their brand presence, both online and off, plus explore their product features, pricing, and benefits. You should understand why people are loyal to their brand — or how they have failed to hit the mark.
Also, take a look at how their company differs from yours in both good and bad ways. Be honest in your evaluations to see where you can improve your approach and provide better solutions to your target audience. Complete this process for between one to three competitors to start, though you can continue with them all if you wish.
• Honestly Evaluate Strengths and Weaknesses
With a clear look at the brand presence, reputation, and offerings of your company and its competitors, you can honestly evaluate all your strengths and weaknesses. Create a bullet point list that highlights where your companies get it right, as well as ways they may do better. Then, plan to improve on the key areas and surpass your competitors' efforts in every way.
Next Steps
With this information, you can set out to create informative sales battle cards for your company. Create one for each of your key competitors, ensuring that all info is available with a quick look.
Now that you know all about battle cards and how they will help your sales team improve their closing rate, it is time to get started in creating this important tool. For more information on putting your battle cards into play, reach out to our team today.