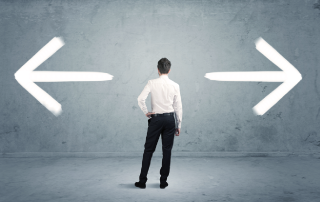 Greg Richards
How to Find the Perfect B2B Sales Enablement Solution
Sales enablement is a broad field, with tools and solutions that run the gamut from email templates to comprehensive data analytics. When trying to decide on a sales enablement solution for your B2B sales team, it can be difficult to distinguish which one is the best fit.
Don't get bogged down in feature checklists. Before you get into individual features, you have to think big picture. Consider these 5 questions to narrow down the right solution for you:
1. What is your goal?
Sales enablement is able to help streamline a diverse range of company problems, from low productivity to missed quotas to lack of visibility into sales operations. A lot of companies go into a sales enablement initiative without a clear idea of what they're hoping to accomplish (aside from "sell more"). So be sure to define sales enablement in a way that makes most sense for your organization.
Before you look at any solutions, identify the inefficiencies within your company. Are your reps not spending enough time selling? Are your marketers struggling to create engaging content? Is your sales training ineffective? Find out the problems you want solved, then look for a solution that meets all of your needs.
2. Is the sales enablement solution for sales, marketing, management or all of the above?
This is a bigger deal than most companies realize. If you're hoping to solve a problem for sales and you end up with software designed for marketing, it's not going to be a good fit. Make sure that the sales enablement solution offers benefits for all of your relevant departments, with targeted functionality that will be beneficial for each team.
3. Are you trying to solve one problem or multiple ones?
If there's only one big issue that you're trying to solve (like presentation management or proposal building), your best option is going to be a point solution. Point solutions are great because they're often hyper focused on one area.
The downside of point solutions is that they're not scalable, which can cause big problems in the long run (think burning down your sales enablement solution and starting from scratch with something that's actually capable of growing along with your company). If you think you'll want to expand your sales enablement solution in the future, go for a platform capable of deploying the functionality you need—both now and further down the line.
4. Is your timeline aggressive?
Sales enablement solutions don't have to be time-consuming or labor intensive, but be realistic about your expectations. If your sales enablement need is immediate, either go for a point solution or consider a phased approach for larger sales enablement initiatives – deploying individual components of the solution that all complement each other as they're implemented over time.
5. What are your competitors doing?
Differentiation is a key factor in winning deals. If your competitors are utilizing a full sales enablement platform with built-in buyer engagement features, you definitely need to consider deploying a comparable or superior solution.
Don't have access to that information? Stick with industry trends. Gartner's hype cycle is an excellent resource for identifying where companies are focusing.
A sales enablement initiative doesn't have to be super complicated. By approaching your sales enablement search strategically, you can quickly identify the best solution for your company.
For more information, check out these resources or give us a call.