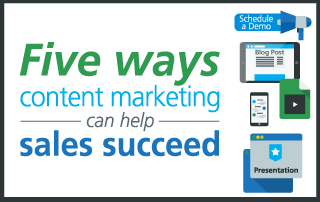 Greg Richards
5 Ways Content Marketing Can Help Sales Succeed
Marketers have a lot on their plates. Between lead generation, resource management and marketing content creation, marketers rarely have time to breathe, let alone try to handle more content creation for other departments.
And yet… I'm going to tell you why marketers should add something else to their plates: sales support.
In the typical selling environment, marketers do a fair amount of sales support on an ad hoc basis—covering everything from proofreading emails to developing presentations for buyers. It makes sense. After all, marketers are typically hired for their ability to write clear and succinct content (Something that's not necessarily very high on the hiring criteria for sales reps).
Marketers' ability to communicate value perfectly positions them to create high quality, targeted content for the sales cycle. So why are they still only doing sales support on an ad hoc basis?
When you focus more on providing content marketing throughout the entire sales cycle (in a structured, habitual process), here's what happens:
1. The Content Gives Sales Reps New Leads to Pursue
This one is obvious (which is why it's first), given that it's usually one of the main goals for content marketing. The less time sales reps have to spend prospecting, the more time they can spend nurturing the leads they do have. In addition, a content marketing approach gives sales reps a wealth of information about buyers initially—what topics interests them, what content types they prefer, the pace of their buying journey, etc.
2. The Content Gives Sales Reps a Clear Way to Differentiate
Sales reps can do much more than simply respond to buying teams' requests for information. They can use content to truly differentiate from their competitors in the sales process by providing insightful research and supporting evidence that "our solutions can help you" at the right points in the process. While Rep A is responding with standard product literature, Rep B is differentiating and building trust through effective and personalized content delivery.
3. The Content Helps Create Buying Team Consensus
Buying teams are driven by consensus more than ever. When delivered effectively, targeted content can also help the rep build that critical consensus a buying team needs to move forward.
It's hard for reps to get access to all the buying team members, often leaving the buyer team champion to deliver your company's value message. Good content can bridge the communication gap, helping the buying champion deliver an unfiltered value message to the rest of their team.
4. The Content Improves Visibility into Buying Teams
Buying teams today are information-driven, but they keep their cards close to their chest. Imagine a scenario in which one of your sales reps sends several pieces of content to a buying team:
The sales and marketing teams can both use monitoring and data analytics to gain information on when and how long the buying team is viewing and which pieces of content are most popular. The sales rep capitalizes on that data to initiate interaction at exactly the right moment, and the marketing team uses the buyer behavior to improve the content they're creating for sales, which in turn gives sales reps a chance to improve the buyer experience even further!
This cycle of increasing knowledge and performance is all possible through the right tools and visibility.
5. The Content Recaptures Dormant Leads
Depending on which industry statistics you go with, the vast majority of leads that enter the sales process drop out for one reason or another. Traditional sales reps are taught to focus on the "live ones" and move on from leads and prospects that show lack of promise.
In most organizations, these leads are dropped and forgotten. By giving sales reps an easy way to stay in touch using good content and nurturing campaigns, a good percentage of these "dead" leads can become future revenue.
Don't rely on sales reps to create high quality content for their buyers. Make it easy for them to close deals by giving them the content they need to engage effectively.
To learn more about content marketing within the sales cycle, download our free whitepaper "Content Marketing Isn't Just for Marketing."