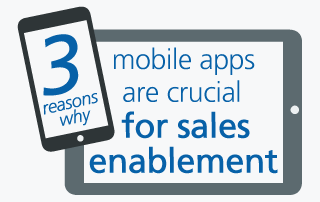 Greg Richards
3 reasons why mobile apps are crucial for sales enablement
Do your reps have mobile access to sales resources?
If they don't, your business is missing out on selling time and potential revenue. Consider these statistics on mobile selling:
In 2014, 82% of companies stated that mobile content that staff can utilize in the field was an important aspect of increasing enterprise sales, but only 28% used sales enablement tools to achieve it. –Adobe, Closing the Deal: The State of Sales Enablement
76% of CSOs believe that mobile CRM improves sales team performance, but less than half of firms currently provide mobile access to critical sales and customer information. –Accenture, Top Five Focus Areas for Improving Sales Effectiveness Initiatives
Sales leaders predict that mobile sales app use will grow by 125% in the next two years. –Salesforce, 2015 State of Sales
Companies that provide mobile sales access to marketing content achieve 29% better lead conversion rates vs. those not doing so. –Aberdeen, Mobile Sales Engagement: The End of 'I'll Get Back to You'
Here's the gist of the stats: Mobile is getting more popular, especially among best-in-class companies, and it's a really effective way to improve sales performance.
In order to understand why mobile access is so vital for strong sales execution, we'll break down how it affects the selling process for the average rep. Here are three main ways:
1) Fast Response
When your sales rep is stuck away from their desk and gets a request from their buyer, it's frustrating for both parties. Your reps want to fulfill that request quickly and the buyers certainly prefer timely response over waiting for hours.
Aberdeen research found that the majority of buyers need information in a day or less in order to make an effective decision, with 24% needing information within an hour or less. This time frame is your sales rep's best shot of keeping the buyer engaged and happy. Without mobile access, buyer response time suffers.
2) Selling Time
Your sales reps have 40 hours a week to engage with buyers and prospects. Unfortunately, all 40 of those hours don't go toward selling. Every company is different, but it's safe to say that for most businesses, reps aren't at their desks every second of the business day. They sit in meetings, they travel for on-site demos, they wait for their order at Burger King, etc.
Okay, so the rep is away from the desk for an hour or two. That's not such a big deal, right? Maybe… Maybe not. Do a quick calculation to see for yourself: Divide your average annual sales quota by 2,000 (average annual work hours). The resulting number is the hourly revenue production for a single sales rep.
Now let's imagine mobile access can get your sales rep just one extra hour each week for selling time. Multiply your hourly revenue value by 50, and you'll see how much additional revenue you'll add.
Final step: Multiply that number by the number of sales reps you have. There's the value for your sales team solely in selling time (not counting any potential revenue from higher buyer engagement and faster response).
Annual sales quota / 2,000 = sales rep hourly revenue production
Hourly revenue * 50 = additional revenue
Additional revenue * # of sales reps = Added mobile revenue
3) Last Minute Changes
If your reps don't have the ability to access sales resources and tools while on the go, they have no way to be flexible with buyers. Consider this scenario:
One of your sales reps, Emily, is waiting for a train on their way to a business meeting. The train arrives at the platform, Emily takes her seat and she notices an email from her buyer.
The email says "Hey Emily, Joe from the legal department heard about our meeting today and wants to join in. He has some questions and concerns about how your product handles different business rules. It'd be great if you could address that today."
Emily's prepared presentation doesn't have any information about business rules, and she doesn't have access to a desktop to make changes.
With a mobile app, the sudden request is no problem at all. Emily simply pulls up the app, searches for the content she needs and creates a customized presentation that covers the revised topics for the meeting.
Within one minute, the new presentation is ready to go.
Mobile matters for sales reps, regardless of whether they're doing outside or inside sales. Are you ready to enable your team for easy mobile selling? Schedule a demo to see the capabilities of our suite of mobile sales enablement apps, available for both Android and iOS.