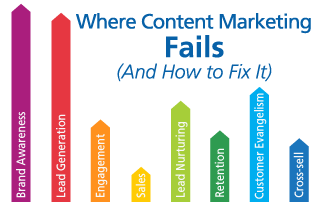 Greg Richards
Where Content Marketing Fails (And How to Fix It)
The Problem
Content marketing is popular for a reason. When done effectively, content marketing focuses on generating leads by providing quality and diverse content—whitepapers, eBooks, webinars, infographics…Content that reinforces branding and provides valuable insight or useful tools to the reader.
According to a study conducted by the Content Marketing Institute, the top 5 goals for B2B content marketers are brand awareness, lead generation, buyer engagement, sales and lead nurturing.
With most business goals, there is a gap between the departments' ideal end results and the actual outcomes. Content marketing is no exception.
There are many, many examples of companies using content marketing to promote brand awareness and generate leads. Marketers are very good at creating content that draws buyers into the sales cycle. What they're not very good at is sales and marketing alignment.
Research from CSO Insights found that only 13% of businesses excel at sales and marketing alignment. The result of this? According to Forbes, buyers consider sales interactions to be unproductive 97% of the time among companies with misaligned sales and marketing teams.
Marketers set the bar high with their content, and the sales team can't keep up.
Buyers are drawn in by all that fantastic content marketing, and then they're stuck in a sales cycle with very little quality content. Sales reps send generic presentations and product feature sheets when what the buyer really wants are personalized materials that directly address their needs and buying process.
The Solution
Once you identify the problem (content quality drops off in the sales cycle), the solution seems obvious (create high quality content for the sales cycle). Just like that, right? Easy. Done.
Not quite. Marketing resources aren't unlimited, and sales reps can't exactly learn how to create high impact sales materials in a day. So how do you overcome the main weakness of content marketing? You have to shift your mind toward content selling, and use this process to streamline content creation across the entire sales cycle:
1. Map your content to buyer personas
Using buyer personas, gain a strong understanding of who your main buyers are, then create content that appeals to each persona. The buyer personas should be mutually used resources by sales and marketing to keep everyone on the same page.
2. Get visibility
It's hard to see where sales and marketing are misaligned without visibility into how sales is using content, which opportunities sales is pursuing, which content is working best with buyers, etc. Use sales enablement content tracking software to get a clear picture of what's actually going on in the sales cycle, then use those metrics to improve content usage and messaging in future content creation.
3. Collaborate on deals
Have sales and marketing meet together on a regular basis (weekly or bi-weekly is a good starting point) to discuss current opportunities. This doesn't have to be a "Marketing, create these 30 documents, please" meeting. Instead, have marketing offer guidance on how sales can use existing content to the greatest effect.
These meetings also give marketing an idea of how to best spend their content creation time moving forward. If sales is prioritizing a certain types of leads, those leads are the ones marketing should be focusing on during lead generation.
These three steps may not seem like much, but they represent a huge shift in the way your marketing and sales teams approach content. This buyer-centric and collaborative strategy will have a big impact on the effectiveness and efficiency of your sales process.