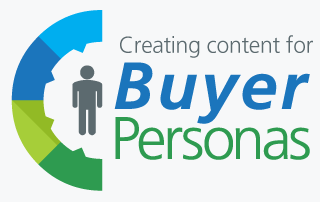 Greg Richards
How to map content to buyer personas: part 4—content creation
A popular (and incredibly effective) trend in marketing and sales recently is to map content to buyer personas. This 5-part blog series will teach you a simple way to create content that directly targets individual buyers, enabling your sales and marketing teams to engage buyers more effectively.
If you've been following along with our content mapping blog series, you've learned how to create relevant, useful buyer personas and how to identify the best content types for each. Now we'll teach you how to effectively create content by:
Creating core and persona-specific content
One of the biggest mistakes you can make when creating persona-specific content is literally making 10 different versions of every presentation, eBook, video, etc. in your content arsenal. The effort to create, manage and update that much content is not worth the hassle.
Fortunately, there's a better option. Here's what you do instead:
1) Standardize your content so that they all use the same branding, style and templates. Let's face it—you should be doing this already. Not only is it great for brand recognition and buyer engagement, it's an easy way to identify where duplicate and outdated content exists.
2) Using the templates you've standardized, create one generic version of each piece of content with your core messaging.
3) Optionally, use the templates to create single slides, email messages, pages, etc. designed for each persona. Note: here is where the mess up typically happens. You're not creating full documents for each persona—you're just creating one-page covers or intro pages. (unless, of course, the document really will best be served by customizing the entire thing. Do whatever works for you.)
4) Either manually or using technology to streamline the process, set up a system for sales reps to add personalized messages to the core content. This can be as simple as taking one of the single slide templates you've created, adjusting the name and intro, and adding it to a presentation—Or it can be a recording of the rep's voice used as an intro to a video—the important thing is that the content directly addresses the buyer in some way.
With this system, you only have to manage a few basic templates while still guaranteeing that content is hyper-personalized for buyers.
See the rest of the series here: