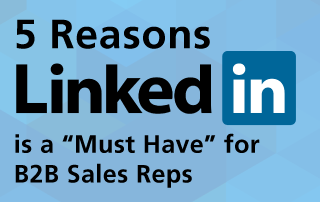 Greg Richards
5 Reasons LinkedIn is a "Must Have" for B2B Sales Reps
Since its launch in 2002, LinkedIn users have been secretly asking themselves the same question "Is this really worth my time? Isn't my website enough?" With its new leadership in 2009, LinkedIn's user base has snowballed to over 400 million members. So if you're not bought-in on the value of LinkedIn yet, here are five reasons to reconsider:
1) Find and Be Found
LinkedIn is probably the safest social media platform to network with professional connections. Unlike Facebook, which is truly intended for social use, LinkedIn's users log in to read, search or publish professional material; connect with individuals from their professional networks; or to market themselves for professional opportunities.
By simply creating a profile, you have verified that you exist, established an online persona and made yourself searchable to parties interested in relevant industries, job markets, mutual connections and geographical locations. This opens a world of opportunities for prospecting or forming partnerships.
2) Non-intrusive Outreach
Before the digital age, networking meant facilitating a face-to-face interaction or asking for an introduction from a mutual connection. Then - of course - you still had to score contact information and land a follow-up. With a platform like LinkedIn, you can identify and search key targets, explore your existing connections' connections, and reach out to people of interest through InMail.
By using LinkedIn to prospect, you also gain access to detailed personal information about the individuals—without having to ask for it. You can see their work history, experience, skill sets, position status within a company, location, connections, special fields of study, specific business interests and more by simply browsing their profile (a much less intrusive way to research and approach your business contacts). Uncovering a shared interest or mutual connection is a great conversation opener for a more natural networking approach.
3) Non-intrusive Networking
Before social media, reconnecting with people meant phone calls, lunch invitations and sometimes uncomfortable small talk – all methods that can be effective, but also dangerous if not done correctly. Have you ever had a blast-from-the-past reach out to you and "What do they want from me?" is all you can think? LinkedIn's connection invite is another non-intrusive, effective networking method because people on LinkedIn are looking to connect.
So you are catching them at a point of interest. You're also giving them the power to accept or decline your invitation without awkwardness. You can avoid the small talk (or elevator speech) that often makes a reconnection feel uncomfortable or unnatural. Once you've connected, you have access to explore their professional situation a little more deeply and can choose to wait to reach out at just the right time and begin a more personalized, strategic conversation.
4) Validation
For a business professional, having a complete and active LinkedIn profile obviously looks good to the users searching and following your industry. It proves that you are growing, engaged and knowledgeable. But a benefit you may have overlooked is the value that your staff's profiles can add to your company's image.
By aligning with impressive personnel on LinkedIn you are, by default, showcasing the expertise and experience of your organization's members. You have established credibility without having to advertise it. This is especially beneficial in industries where clients rely on the knowledge of representatives exclusively, such as law firms or healthcare organizations.
5) Network With a Plan
To be considered an "All Star" user, LinkedIn really only checks that you have about 50 first-degree connections.  Once you've reached that base number, shift your strategy to a more "Quality over Quantity" approach when adding connections. Ask yourself "What is my goal? Who will get me there?"
If your current business goal is public relations-oriented, you may strategically connect with reporters, journalists and bloggers with relevant interests to help you distribute your message.
If your business goal is more focused on direct sales, your networking strategy would be targeted toward connections that could benefit from your product or service.
If you're focused on partnership opportunities, you may seek out users with related or relevant professions and begin laying the groundwork for a business relationship.
Once you've identified your goals and target audiences, you can use LinkedIn to search, research, connect and communicate with them.
Another nifty trick many are unaware of is that you can segment your network. As you add to users, you can tag and label connections. Segmenting your network will give you a snapshot of which industries your network consists of. From here, you can identify which audiences may need building out or which segment of relationships you should focus on adding to your network. If this is news to you, you may want to comb through your existing connections and categorize them by industry.
The bottom line:

LinkedIn has a lot of value for B2B sales reps, and if you're not currently leveraging it as part of your sales strategy, today is the day to start. We'll be following up soon with some posts on best practices for LinkedIn prospecting, so be sure to subscribe to get notified when those articles are posted!