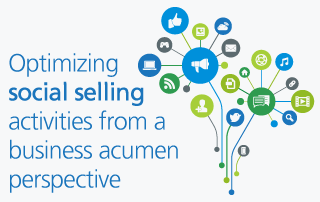 Greg Richards
Optimizing social selling activities from a business acumen perspective
This guest post is authored by Jim Brodo, the Chief Marketing Officer at Advantexe
Every day it seems as though there is another story about the disruptive role social selling is playing on selling and demand generation activities.  I know I personally receive at least five to ten requests a day on LinkedIn to connect, mainly from people I don't know. Most are ubiquitous and generic outreaches to connect, "Hi Jim, please add me to your LinkedIn network." These types of "In mails" have no value to me, so I either ignore or delete them. These are what I call the "check the box connection" because my title is attractive and sales rep wants to mark off the social selling activity in their CRM.
For learning purposes I sometimes respond to them with:  "Thank you for your request to connect. Please explain to me what prompted you to contact me?" About 90% of the time, within 10 minutes, I get a boilerplate response spewing back the features and benefits of their company and wanting to set up a meeting. Ten minutes after that, I receive the obligatory phone call. I then spend the next five to six weeks deleting those pesky and contrived "Did you receive my email?" notes.
We all know prospecting is more difficult now than ever before, and many sales professionals are looking towards social selling as an edge to build a consistent and "valid" pipeline.
Social Selling, on the surface, has opened up an unprecedented opportunity of insight into prospects and clients. Unfortunately, not many sales professionals are optimizing the power of these tools. They just don't have the foundation or depth behind them to fully leverage the platforms. Social selling is not a technology tool to, on the surface, fill the top of a sales funnel. It is a series of technology platforms that can provide and deliver insights and value to, and from, your clients, prospects, and overall business ecosystem.
In its simplest form, social selling represents three pillars:
Listening – to what is being said about your company, competitors, clients, prospects, and industry, markets.
Creating – thought leadership content, positioning that supports your solutions, and a personal point of view (POV) to distribute to individuals and intact networks
Interacting – participate in group discussions, knowledge networks, and communicate with industry experts, clients, and prospects.
These three pillars are at heart of social selling and where having a deep and core set of business acumen skills can really pay dividends.  I define Business Acumen as a germane understanding of how a company makes money. It includes an awareness of what drives profitability and cash flow, a market focused approach to the business, and an overall knowledge of the business and its interrelationships.
Social media outlets such as Twitter, LinkedIn, Google+ and Facebook are all full of great opportunities to better understand and leverage business acumen concepts such as:
Gathering data to ask the right questions in the context of your customer's business
Recognizing your customers' business strategy and current financial results and how it relates to the value of your solution
Reading and comprehending the impact of financial statements
Being able to better understand customer business metrics
Learning about supply chain operations and management
Better understanding the talent management needs of clients and prospects
Changes in business leadership
Here's the Foundation!
But how many sales professionals are asking the questions listed above? Many sales reps just do not know where to start, nor do they have the business acumen background to fully leverage social selling tools. You need to use the three pillars and develop a blueprint that will provide you with a direction and long-term purpose. The following will review each of the three pillars and further outline some questions, ideas and tips for optimizing social selling activities from a business perspective.
Listening

What are your clients and prospects tweeting about? Almost every public company's Investor Relations are tweeting about financial results and pending strategic direction of the firm. Do you read these? Do you listen to the briefings? Do you understand their strategy, and or, their financial results and metrics? How are you using this information to have higher level dialogues with your clients and prospects? How do you use this information to adjust your own value proposition and develop new competitive advantages?
Have you set up Google Alerts on every one of your prospects and clients to get updates on information and news about them? Google Alerts can provide deep insight into a company's product shifts, marketing, sales, supply chain operations, HR strategies, and measures of financial success. LinkedIn Navigator is another great tool to set up alerts and information flow that you can listen to.
What are your clients and prospects promotional plans on social? Are you following their social promotions? What is their messaging? How aggressive are they with social promotions? How can you use their promotional plans to better position the value of your products and services?
Are your direct prospects and clients active in social activities? Are they posting in LinkedIn and Twitter? What do they post about in Facebook? Is there information in their social activities that you can address and relate to on a business, as well as on a personal level?
Are you listening to industry analysts for business information about clients, prospects, and your own industry? Industry analysts are constantly posting business information, research, industry data and news that you should be leveraging in your messaging and core knowledge base.
Creating
Based upon your knowledge and what you have been "listening" to, what are you creating and posting to social?
It's ok to share other pieces of information that your marketing department may have developed, but to create a personal brand for yourself and strengthen your company brand, what do you create on your own? What insights can you provide from industry financial data and trends that you can share with others and become an expert or guru? Can you review aggregated financial data and develop some thoughts to share? Can you use this data to create account-based outreach programs to your clients and prospects?  Can you develop content that helps a client or prospect justify your solution's cost?
Interacting
You listen, you create, now it's time to interact. What social groups on LinkedIn do you belong to? How do you interact with people on Twitter? Are you Tweeting or at least retweeting your company tweets? Do you retweet or share other organization's content? Do you make comments besides "great" or "cool article"?
Do you in mail or send messages to prospects about an article they posted or liked?  I just posted an article on ATD about sales strategy and not one person who contacted me via LinkedIn leveraged that article as a hinge in the email connection.
What groups do your clients belong to? Are you a member of that group and how many times have you joined in on a discussion? If someone posted a question in a group discussion about who supplies the best "ABC services" in the industry, how would you respond? Do you just jump in and say "we do"? If your company is followed by an independent analyst and has received good market overviews, this is a great time to jump in on the conversation and say, "John Smith of Gartner Group developed an independent analysis on the top companies in the industry. To further help you with your question, here is a link to it."
How are you interacting with your prospects via social?  Do your prospects belong to any of your competitors' groups? If they do, that could signal some internal hurdles that you may have to overcome.
Wrap Up
Social selling tools have created an intricate infrastructure and joined network of people and companies that has forever changed the way we sell and market.  It helps us drive and monitor brand awareness, create specialized content to specific interested networks, engage with existing clients and prospects, support lead generation activities, and allows us to monitor and mine what is being discussed in our business ecosystem.
However, without the right set of business acumen skills and the "will" to maintain an on-going cadence to participate in a social selling framework, then all we will really have is just a pretty set of interconnected tools without much real value being provided.
About the guest author
Jim Brodo is Chief Marketing Officer at Advantexe Learning Solutions. Advantexe focuses on building the business skills and competencies of employees through a simulation-centric approach to learning. With over 25 years of experience in marketing, training and development, and business simulation development, Jim is an award winning marketing executive with a proven background in driving pipeline value, revenue creation, and return on marketing investment through innovative demand generation strategies and tactics across digital and traditional mediums.