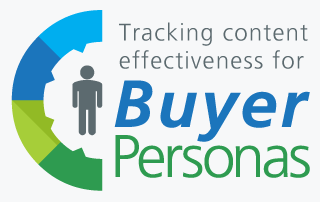 Greg Richards
How to map content to buyer personas: part 5—tracking content effectiveness
A popular (and incredibly effective) trend in marketing and sales recently is to map content to buyer personas. This 5-part blog series will teach you a simple way to create content that directly targets individual buyers, enabling your sales and marketing teams to engage buyers more effectively.
Our content for buyer personas blog series has covered how to create relevant, useful buyer personas, identify the best content for each persona and efficiently create and manage persona-specific content. Now we'll teach you how to ensure your persona-mapped content is being put to best use by:
Tracking content effectiveness
What are reps actually using?
In part 2, The Content Audit, we discussed how sales reps often don't use the content created by marketing, either because the reps don't know it exists or because they don't believe it's relevant to buyers. After you go through the process of creating targeted content for each persona and buyer stage, the worst thing you can do is just call it a day and hope that content gets used.
Use content tracking software to monitor content usage. This will enable you to identify where you hit the mark with strong content and where your content is sitting ignored or misused. From there, you can intelligently approach strategies to increase content usage and effectiveness.
What's working with buyers?
The sales reps are only part of the picture. A far more important metric is what content is most effective with buyers. You can find this out by using a buyer activity tracker.
This type of software provides complete visibility into your content, right down to the number of seconds the buyer spends on each slide or page—or the exact moment they lose interest and close out of the document. You can also keep track of important buying signals like when a buyer shares your content with other buying team members, leaves comments, or opts to download.
What can you do next?
You thought you were done? Well technically, yes, you could stop here. But if you truly want to engage with buyers through your content, you'll take the insight gained by tracking sales and buyer activity and go through another round of persona-specific content creation. This time, put more emphasis on the topics and content types that have been proven to be most effective with your buyer personas.
If you've followed each step of the content mapping series, you've made huge strides toward engaging your buyers with targeted, impactful content. Keep up the good work!
Looking for more insight on how to use content to engage with buyers? Give us a call. Our sales enablement consultants can offer advice on your unique selling and lead generation environment.
See the rest of the series here: