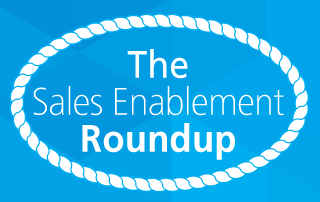 Greg Richards
Sales Enablement Roundup: April's Best Articles
We've scoured the internet over the past month and put together the articles and blog posts on sales enablement you definitely will want to read:
Written by Mark Donnolo, ATD Sales Enablement Blog
Sales author and strategist Mark Donnolo explains how to craft an effective value proposition that positions your company's unique benefits to the customer. Donnolo approaches the value proposition creation process from both sides (the customer and the company) and provides helpful questions you need to ask in order to develop value propositions that are substantial and actually useful for both rep and buyer.
Written by Ryan Tognazzini, Sales Benchmark Index
Business strategies are great. They can ramp up sales and improve operational efficiency. But when strategies don't achieve the results you were hoping for, you probably ask yourself "why isn't this working?" SBI Consultant Ryan Tognazzini has the answer. Tognazzini identifies the key difference in strategies implemented by top performing companies, then goes into practical steps your company can follow to implement successful, effective strategies.
Written by Will Smith, Richardson Blog
How do your sales plans and operations from a year ago differ from those in play today? If your answer is "they don't," this article by Richardson's Regional VP of Sales is for you. Smith identifies four areas where you can initiate change in order to reach your company's ever-increasing revenue goals.
Written by Mary Wallace, Marketing Land
The effectiveness of content marketing has come at a cost: your buyers are now flooded with content from every angle. So how do you make sure YOUR content is stuff that your buyers read? Marketing expert Mary Wallace has three tips for you that will get your content to the top of the pile.
Written by Gil Canare, SiriusDecisions Blog
What can toy commercials teach you about B2B sales and marketing? More than you might think. SiriusDecisions Research Director Gil Canare discusses how the "commercial mind virus" phenomenon of how messaging can spread among four-year-olds can be just as effective for reaching decision makers within your target accounts. The article goes into the 3 main ways you can modify your messaging to be as pervasive as those catchy commercial jingles.
Did we miss any great sales enablement articles for the month of April? Let us know in the comments!