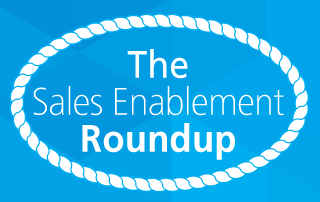 Greg Richards
Sales Enablement Roundup: September's Best Articles
We've scoured the internet over the past month and put together the articles and blog posts on sales enablement you definitely will want to read:
Written by Aja Frost, Hubspot Sales Blog
Technology has changed the way sales reps sell, making it easier and faster to connect with buyers. Unfortunately, technology has also changed the way buyers approach the sales process, and many sales reps have yet to get the memo. In this article, Hubspot writer Aja Frost identifies five key areas where many sales reps are still stuck in the sales stone age and what they can do to modernize their selling approach.
Written by AJ Agrawal, The Huffington Post
It takes a lot more than just publishing a blog post to be successful with content marketing. The content marketing sphere is becoming more and more crowded, which means you need strategies that will make your content stand out from the rest. AJ Agrawal has some strategies that can help, such as implementing buyer personas and tracking metrics. Click to read the full list.
Written by Rob Markey, Harvard Business Review
Success stories, gut feelings, once-a-year surveys… the average B2B company's information about their products, services, and sales pipeline is often far removed from the realities of what's actually going on each day. In this Harvard Business Review article, Rob Markey outlines the importance of making client feedback a habitual, ingrained part of your business intelligence.
Written by Judith Aquino, 1to1 Media Blog
In B2C environments, it's common to see customers have strong brand loyalty, but it's far less common to see that loyalty transfer to the B2B space. However, it's not impossible to achieve, according to Judith Aquino. This thought-provoking article does more than just talk about the importance of building relationships with your B2B clients—it provides guidance on how you can achieve it.
Written by John Shea, Quintain Blog
Most businesses know by now that sales enablement can have a huge impact on revenue and sales effectiveness. But on a practical level, how you make sales enablement work for your company? According to sales strategist John Shea, it boils down to CRM, content management, and sales rep time management. Click to read his how-to guide.
Did we miss any great sales enablement articles for the month of September? Let us know in the comments!