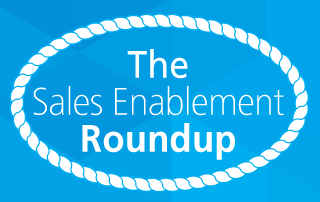 Greg Richards
Sales Enablement Roundup: October 2016's Best Articles
We've scoured the internet over the past month and put together the articles and blog posts on sales enablement you definitely will want to read:
Written by Robert Rose, Content Marketing Institute
Looking for good insight into the current state of content marketing? Look no further than this article by Robert Rose, the Chief Strategy Officer for the Content Marketing Institute. Rose discusses how content marketing is currently broken and what you can do to improve it.
Written by Lisa Haynes, Browser Media
Hubspot's State of Inbound report is chock full of useful information and guidance for sales and marketing leaders, but let's face it: not many people have the time to wade through the entire report. Fortunately, Lisa Haynes has put together the main highlights in this article so that you can stay in the loop on the latest research.
Written by Ben Silverman, Brafton Blog
Email drip campaigns play a large role in marketing automation, but it's easy to treat these emails with a "set it and forget it" approach. However, Ben Silverman's take on the matter is that taking a look at the quality of your emails is the first step toward maximizing your campaigns' effectiveness. This simple yet comprehensive guide is a must-read for anyone doing nurture campaigns.
Written by Ken Sterling, ATD Sales Enablement Blog
In this blog, Ken Sterling lays out some advice that every sales rep needs to hear: stop wasting time on dead deals. If you want to "win" at sales, you have to move on from cold opportunities. If you're not sure whether a ship truly is sinking, Sterling provides a helpful list of red flags to take as a sign it's time to move on to better opportunities.
Written by Bob Marsh, Salesforce Blog
With so many sales tools at businesses' disposal, the door has opened for a new approach to selling. Instead of the traditional day-to-day selling process, companies are now taking advantage of Activity Based Selling. In this article, Bob Marsh outlines the importance of an activity-based approach and how you can implement it in your organization.
Did we miss any great sales enablement articles for the month of October? Let us know in the comments!