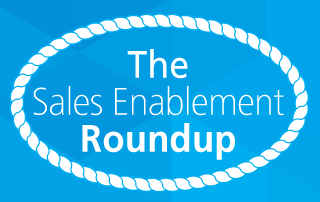 Greg Richards
Sales Enablement Roundup: November's Best Articles
We've scoured the internet over the past month and put together the articles and blog posts on sales enablement you definitely will want to read:
Written by Derek Pando, Business.com
Derek Pando gets it, and by "it" we mean sales enablement. This simple list of sales enablement tips is a great starting point for new sales initiatives or a helpful refresher for sales veterans. Pando identifies a problem (only 24% of a sales rep's time is spent selling) and then succinctly summarizes how businesses can solve that crucial issue through sales enablement.
Written by David Dodd, CustomerThink
If you haven't had the chance to read through CSO Insights' 2016 Sales Enablement Optimization Study, David Dodd has you covered. This quick summary goes over the highlights of the study, making note of the most startling and meaningful statistics that CSO Insights' research revealed.
The results from sales consulting firm SalesGlobe's latest survey are in, and they reveal some interesting statistics about sales compensation. One of the most staggering finds is that less than half of reps are achieving quota, down from previous years. SalesGlobe founder Mark Donnolo breaks down the research results into businesses' three main challenges with sales compensation.
Written by Kristen Hicks, Business 2 Community
When used correctly, technology is a tool that can bring sales and marketing together. Whether you have a basic CRM or a full sales enablement platform, the guidance offered by Kristen Hicks in this article is both sensible and helpful.
Written by Chirag Kulkarni, Huffington Post
November is at an end, which means the first "predictions for 2017" posts have arrived. Here's a helpful one about marketing strategy. Learn how Insightfully co-founder Chirag Kulkarni predicts that marketing, sales enablement, and account based marketing will evolve in the coming year. (Want a sneak peek of our prediction of the big winner for 2017? It's all about sales analytics.)
Did we miss any great sales enablement articles for the month of November? Let us know in the comments!