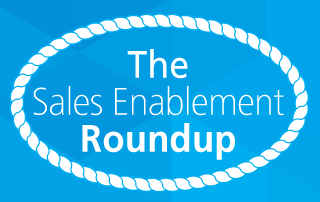 Greg Richards
Sales Enablement Roundup: January's Best Articles
We've scoured the internet over the past month and put together the articles and blog posts on sales enablement you definitely will want to read:
Written by Chris Gillespie, Marketo Blog
Does the secret to sales enablement lie not in sales, but in marketing? That's Chris Gillespie's claim. In this article, he goes over four types of content that will be the sales team's secret weapon. We won't spoil the article by saying what the types are, but suffice it to say that we definitely agree on the merit of all four.
Written by Dave Brock, Business 2 Community
The answer to stronger sales isn't always to find the right tools or processes. If you've ever found that your sales reps simply can't meet quota no matter how many sales enablement initiatives you try, the problem might not be with the initiatives, but with the quota. In this article, author and sales consultant Dave Brock explains the importance of making sure you're focusing on the right sales metrics for success.
Written by Frank V. Cespedes and Christopher Wallace, Harvard Business Review
"Companies deliver only 50% to 60% of the financial performance that their strategies and sales forecasts have promised." It's a troubling statistic, but why is it so pervasive? This article seeks to get to the bottom of why there is such a discrepancy between what executives believe is possible and the frontline result.
Written by Erik Charles, Destination CRM
Most sales team performance can be plotted to a bell curve, with A sellers exceeding quota, C sellers not even reaching 10%, and that middle chunk that is constantly striving (and falling short) to achieve quota. The obvious goal is to shift that curve so that the "frozen" middle moves toward A seller performance. But how do you do that? Erik Charles has five great tips.
Written by James Carbary, The Huffington Post
There's a lot of content out there, and it's growing every day. When thinking of strategies to make your content stand out from the rest, it's always a good idea to learn how the best in class do it. James Carbary, Co-Host of the B2B Growth Show, breaks down what 10 B2B marketing executives said their secret was for making content succeed.
Did we miss any great sales enablement articles for the month of January? Let us know in the comments!