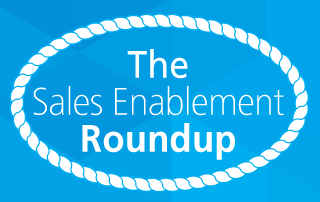 Greg Richards
Sales Enablement Roundup: February's Best Articles
We've scoured the internet over the past month and put together the articles and blog posts on sales enablement you definitely will want to read:
Written by Dave Brock, Business 2 Community
Sales training, content management, sales tools…there are a lot of different priorities when it comes to improving sales. Yet one area of sales enablement is constantly missing from the discussion: enabling front line sales management. In this article, Dave Brock addresses why more funding and attention needs to go toward helping front line management succeed.
Written by Sam Del Rowe, Destination CRM Blog
Marketing automation is transforming the way that companies draw in new business. A new study by Forrester has revealed some interesting stats about how marketers feel about the shift toward automation. Generally, the feelings are positive, yet many marketers have been hesitant to adopt an automation platform. This brief article lays out the main reasons behind the slow adoption.
Written by Christopher Ryan, Fusion Marketing Partners
You'd think that with all the ways to streamline communication and instantly offer information, the B2B sales cycle would shrink. Yet it seems to get longer every year. Sales reps can find assistance in shortening the cycle in an unlikely partner: marketing. In this blog, Christopher Ryan outlines six cycle-shrinking methods that every marketer should be using.
Written by Tracy Sinclair, ATD Human Capital Blog
The latest study on business coaching is out, and it has some interesting statistics that could shine some light on what's working (and not working) in your sales coaching process. In this article, Tracy Sinclair outlines the main takeaways from the 2016 ICF Global Coaching Study.
Written by Colleen Francis, Computer Dealer News
Welcome to the future of sales, says Colleen Francis, a global sales consultant. She's referring to the changes that technology has caused within the sales process. The pervasiveness of technology might be one that you take for granted, but this article is a fascinating dive into what it really means to say that technology makes sales more efficient.
Did we miss any great sales enablement articles for the month of February? Let us know in the comments!