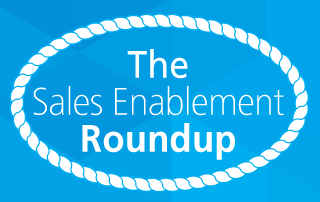 Greg Richards
Sales Enablement Roundup: March's Best Articles
We've scoured the internet over the past month and put together the articles and blog posts on sales enablement you definitely will want to read:
Written by Debbie Qaqish, The Pedowitz Group
If you want to be successful in marketing, you need to treat it like a business. By changing your mindset from a task-oriented to a results-oriented approach, you can start making an impact in your department and across the entire company. For practical ways to make that happen, read this quick article by award-winning author Debbie Qaqish.
Written by Michael Harris, Business2Community
Sales training might benefit your poor-performing sales reps the most, but the reality is that the reps who take training to heart aren't the ones who need it most. Insight Selling author and CEO Michael Harris explains why this occurs and how you can better approach sales training so that those who need it most get the best training possible.
Written by Ronald Van Loon, Dataconomy
What is a B2B ecosystem? What role does it play in sales and marketing? How can we best equip and leverage it? Big data specialist and public speaker Ronald Van Loon answers those questions and more in this article about the role of big data within the B2B sphere.
Written by Jason Forrest, ATD Sales Enablement Blog
If you want stellar sales results, you need a stellar sales team first. Jason Forrest, the CEO and Chief Culture Officer for Forrest Performance Group, uses this article to outline the top five strategies you should keep in mind when building a sales force that is sure to be successful.
Written by Anthony Iannarino, The Sales Blog
We've all been there: you send the quote to the prospect and they shoot back that one of your competitors is offering the same thing for cheaper. What do you do? When you have an irrational competitor who seems to offer prices so low there's no way to be profitable, there's only one way you can react, as sales expert Anthony Iannarino explains in this article.
Did we miss any great sales enablement articles for the month of March? Let us know in the comments!