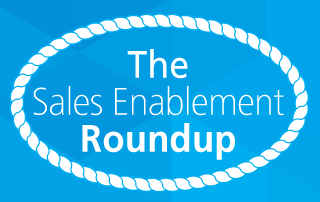 Greg Richards
Sales Enablement Roundup: April's Best Articles
We've scoured the internet over the past month and put together the articles and blog posts on sales enablement you definitely will want to read:
Written by David Brock, Partners in EXCELLENCE Blog
Your gut reaction when your reps don't make quota might be to fix the "problem" with compensation. Clearly they're not being compensated enough if they're not closing deals, right? Sales consulting expert David Brock has another theory: maybe there's not a problem with compensation. Learn about the role that compensation plays in overall sales performance by reading the latest article on his blog.
Written by Kate Fitzgerald, ATD Sales Enablement Blog
Convincing sales management to start an enablement initiative shouldn't be difficult—after all, you're asking them to approve something that will have a significant impact on revenue and operational efficiency. And yet getting the sign-off on sales enablement is a struggle for many sales leaders. This article by Kate Fitzgerald shares some helpful tips on getting sales enablement and sales management on the same page.
Written by Shabana Arora, MarTech Advisor
Businesses are really starting to see the positive effects that Account Based Marketing strategies can have. But the struggle for ABM usually comes down to scale. It's a personalized, information-driven approach, and for large businesses, putting that information together takes a lot of time and effort. That's why it's so important for businesses to think long and hard about the technologies they have in place to make ABM successful in the long run. This article by MarTech Advisor Editor Shabana Arora is a good read for any business leader facing that struggle.
Written by Dan Scalco
As sales analytics become a standard part of business operations, the role of data is changing. The days where sales reps can get away with minimal CRM notes are gone. In this article, Digitalux founder Dan Scalco highlights six data points that have gone from a "nice to have" to a "must have" for sales success.
Written by Peter Buscemi, Business2Community
If you follow our blog, you know that we love to talk about sales analytics. That's because they're transforming the way businesses approach selling. One type of sales analytics is predictive, in which an analytics engine can actually tell you what is likely to happen with sales opportunities, forecasts, etc. Author and marketing leader Peter Buscemi provides a breakdown of the most popular applications for predictive analytics in this article.
Did we miss any great sales enablement articles for the month of April? Let us know in the comments!