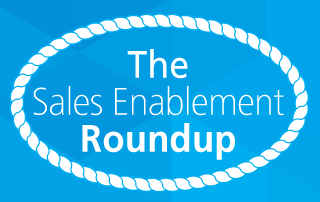 Greg Richards
Sales Enablement Roundup: May 2017's Best Articles
We've scoured the internet over the past month and put together the articles and blog posts on sales enablement you definitely will want to read:
Written by Jim Dickie, Destination CRM
What happens when one person in an orchestra isn't following the maestro's direction? It can transform beautiful music into chaotic noise. The same thing is true in a sales force. If your sales enablement efforts have been a bit uncoordinated, then this blog is something you should read.
Written by Tris Brown, ATD Sales Enablement Blog
How clear is your sales strategy? You might think you're expressing sales goals clearly to your sales team, but recent research shows that many executives are failing to make goals as clear as they need to. And visibility into sales goals and performance matters—high-performing teams are 31% more likely to have sales clarity. Tris Brown, chairman and CEO of LSA Global, goes over the seven warning signs that you have an ambiguous sales strategy.
Written by Dan Tyre, Hubspot Sales Blog
Urgency is the key to keeping deals moving forward. That part is easy to grasp, but what can be harder for reps is how to create that sense of urgency with each opportunity. Hubspot sales director Dan Tyre has some conversation tips that will help avoid that mid-sale rut. Look over the 40 questions he provides and see if any will fit well into your sales process.
Written by Danny Wong, Business 2 Community
While we enjoy getting into detailed, in-depth sales and marketing strategies, there's also something to be said for articles that take a broader view. If you're looking for some simple steps you can take to start improving sales, read this article. It goes over six proven strategies that any business could benefit from.
Written by Alex Berman, Entrepreneur.com
Technology has come a long way in recent years, transforming the B2B sales process and making life easier for sales reps and management alike. But there's one area of sales where technology doesn't belong: the one-on-one conversations between rep and buyer. People don't want to be sold something by a robot. Here's the problem: Many reps these days, driven by standard scripts and structured sales processes, have a hard time breaking out of robot mode. This article describes why that's a problem and how reps can fix it.
Did we miss any great sales enablement articles for the month of May? Let us know in the comments!