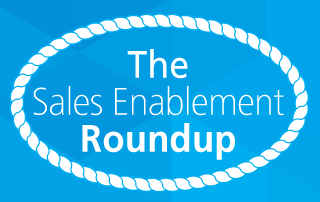 Greg Richards
Sales Enablement Roundup: July's Best Articles
We've scoured the internet over the past month and put together the articles and blog posts on sales enablement you definitely will want to read:
Written by Larry Myler, Forbes
If your company isn't using predictive analytics as part of the sales process, now is the time to start. If you need convincing, consider reading this article by Larry Myler. He breaks down what predictive analytics is as well as the main benefits there are to gain from incorporating them into your business.
Written by Anthony Iannarino, The Sales Blog
Change is hard, and it's rarely quick. That's a message that sales expert Anthony Iannarino gets across in this article, and it's an important one to understand if you're just starting (or in the middle of) a sales enablement initiative. Iannarino walks through the three fundamentals you need to focus on if you want to ensure transformation within your organization.
Written by Sarah Gulbrandsen, Sales Hacker
We're suckers for a good set of statistics, and this report on sales calls does not disappoint. As sales enablement technologies and strategies advance, you might be asking yourself if the traditional way of doing sales is effective anymore. Do people want to receive sales calls? Read the data shared in this article to see for yourself.
Written by Peter Buscemi, Business2Community
Predictive analytics are often talked about in relation to sales or to marketing, but few articles address the intersection of the two. For analytics to truly be successful in your organization, you cannot limit the data to one department. Read this article to learn how you can do more than just lead scoring with your marketing and sales data.
Written by Tom Maloney, Sales Benchmark Index
How often do you hit the nail on the head when it comes to sales forecasts? If you're like most companies, the answer is probably "not often." So what's the point of doing forecasts if they're never accurate? In this article, Tom Maloney breaks down the root cause of inaccurate sales forecasts and offers some helpful guidance on fixing that issue.
Did we miss any great sales enablement articles for the month of June? Let us know in the comments!