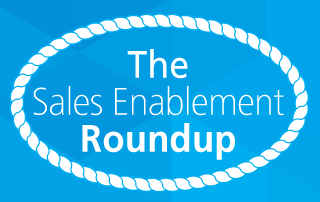 Greg Richards
Sales Enablement Roundup: August 2017's Best Articles
We've scoured the internet over the past month and put together the articles and blog posts on sales enablement you definitely will want to read:
Written by Matt Heinz, Martech Advisor
According to a recent Heinz marketing survey, 67% of survey respondents who missed their sales goals believed ineffective presentations to be a key contributor. A lot of focus is put on getting leads into the sales funnel, but not so much on closing those leads once they've been in the funnel for a while. In this article, Matt Heinz breaks down the "blind spot" in the sales funnel – that moment when prospects shift from evaluation to decision – and how B2B sales teams can fix it.
Written by Jim Dickie, DestinationCRM
The data from CSO Insights' 2017 World-Class Sales and Services Practice research is in, and it reveals a troubling trend in a key performance metric for B2B sales teams. Sales reps aren't meeting quotas. CSO Insights Co-Founder Jim Dickie shares his thoughts on how AI and sales enablement can help to reverse this downward spiral.
@jimdickie
Written by Geoffrey Bock, Tech Target
An often overlooked aspect of content management is security. Especially for businesses that handle sensitive data such as financial or personally identifiable information, keeping that content fully secured should be a top priority. But what does it mean to make a content management system "secure"? This excellent guide walks through the best practices.
Written by Andris A. Zoltners, PK Sinha, and Sally E. Lorimer, Harvard Business Review
With the growing trend of sales reps failing to meet quota, it sheds light on one of the chief methods for ensuring reps succeed: sales incentives. This Harvard Business Review article says what we've all been thinking – in today's increasingly digital world, traditional sales incentive plans are flawed. Read the article to read their suggestion for how to adapt your sales incentive plan accordingly.
Written by Ralph Grimse, ATD Sales Enablement Blog
One key characteristic of top sales performers is their ability to adapt to different situations. What does that mean, exactly? ATD author Ralph Grimse uses Jordan Spieth's victory at the 2017 British Open as an apt analogy for how sales reps can do the right actions at the right time to close deals.
Did we miss any great sales enablement articles for the month of June? Let us know in the comments!