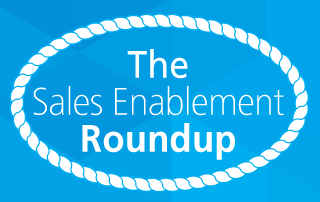 Greg Richards
Sales Enablement Roundup: Accent's Best Articles from 2017
For this month's sales enablement roundup, we decided to do something a little bit different! We're all about using cold hard data to its full potential, so we've crunched the numbers and come up with a list of the most popular blog posts published to the Accent Technologies Sales Enablement Blog. If you haven't read all of these, consider giving them a glance!
Do you know the difference between sales operations and sales enablement? Contrary to popular belief, they're not the same thing! If you've been treating those terms as synonyms, you'll want to read this blog post, which breaks down each term's meaning and addresses the overlap between the two.
Firing people is not fun, but it's a necessary part of doing business. If you've struggled with ensuring that letting people go happens calmly, peacefully, and with dignity, then this quick read will be helpful for you. We break down the three steps to making the firing process peaceful.
Sometimes, the most useful and popular content we publish isn't about super complex B2B sales strategies. Instead, it's ensuring that everyone has a clear understanding of B2B sales in general. That foundational knowledge is essential for growing more in-depth strategies in the future. In this article, we cover the basics of what sets B2B sales apart from B2C sales.
Analytics and reporting are NOT the same thing, yet many B2B enterprises tend to treat them as such. We'll go one step further and state that many sales tools talk about providing sales analytics, yet when you really look at the data being provided, it's nothing more than a basic report. But don't get us wrong: reporting is still incredibly valuable and plays a key role in any B2B sales organization. If you're curious about the differences, read this blog post.
There are a lot of approaches to improving the productivity within your sales organization, but not all of them are created equal. In this blog post, we outlined the 10 strategies that we've found to be the most effective across many enterprise-level B2B sales teams. Are you leveraging any of these approaches within your organization?
In this blog, we set the record straight about the differences between predictive, descriptive, and prescriptive analytics. Yep, there are three different types of sales analytics, and each one has value within the sales process. Click above to read about the three types and how to best leverage them for a comprehensive sales strategy.
Which Accent Technologies blog post did you find most insightful or helpful? Let us know in the comments!