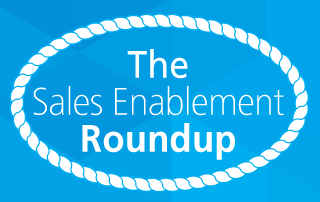 Greg Richards
Sales Enablement Roundup: March 2018's Best Articles
We've scoured the internet over the past month and put together the articles and blog posts on sales enablement you definitely will want to read:
Written by Digital Marketing Institute
Content and sales enablement go hand-in-hand, but do you have a solid understanding of all the different types of content you should be leveraging during the sales process? This guide by the Digital Marketing Institute is handy for sales reps and marketers alike. Read it to identify any gaps in your sales enablement strategy and get inspiration for upcoming content creation.
Written by Miller Heiman Group
Sales enablement is not a guaranteed success for businesses. It takes strategy, effort, and time to implement effectively, and even then, you may not get the results you're hoping for. If you've jumped on the sales enablement bandwagon, it could be worthwhile to consider how to go beyond the basics and ensure your initiative achieves (and even exceeds) its goals. This article by Miller Heiman Group has some helpful strategies to make it happen.
Written by Antonio Garrido, Hubspot Sales Blog
How often have you heard "I'd like to think it over first" right when you think you're about to close a deal? The phrase doesn't have to be a deal killer, but only if you know how to respond to it. The correct approach is not to simply agree and let the opportunity slide away. Instead, Antonio Garrido has some tips for driving deals to the finish line.
Written by Tamara Schenk, CSO Insights
As more and more businesses start to embrace sales enablement, it really highlights the need for differentiation between a company that "does sales enablement" and one that drives home the principles of significantly improving sales and marketing on an ongoing basis. That's where CSO Insights' Sales Enablement Maturity Model comes in. In this article, you can learn more about the maturity model and get a feel for where your company currently stands.
Written by Aron Placencia, Sales Hacker Blog
It's one thing to say "add value in your sales pitch" and another thing entirely to know how to do that. After all, what does "add value" even mean? If you've ever found yourself asking that question, then consider this article by sales coaching expert Aron Placencia to be your go-to crash course in value-based selling.
Did we miss any great sales enablement articles for the month of March? Let us know in the comments!