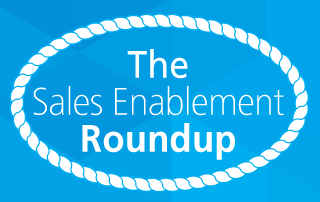 Greg Richards
Sales Enablement Roundup: May 2018's Best Articles
We've scoured the internet over the past month and put together the articles and blog posts on sales enablement you definitely will want to read:
Written by Byron Matthews, MediaPost
We love a good statistic, and this excerpt from "Sales Enablement: A Master Framework to Engage, Equip and Empower a World-Class Sales Force" is chock full of them. Here are a few of the ones that stood out to us:
Salespeople still create 18% of the content they need on their own.
Marketing creates only 39% of the content salespeople need for their selling efforts.
Effective content services result in an 8% improvement in quota attainment.
To put the statistics in context, read the brief excerpt.
Written by Oren Smilansky, DestinationCRM
Repeat after me: "change can be good." As salespeople, it can be hard to embrace change. And if you're trying to push adoption of new technology, you're faced with an even greater challenge: getting other people to embrace change. This article breaks down some guidelines to assist you in increasing adoption of those new changes.
Written by Nadjya Ghausi, MarTech Advisor
We cannot stress enough the importance of sales and marketing alignment for a cohesive and successful B2B strategy. Of course, understanding that it's important and understanding how to implement it are two very different things. In this article, Prezi's VP of Marketing offers three practical steps sales and marketing teams can put into practice to make alignment that much easier.
Written by Brian Hannon, CustomerThink
How satisfied are your sales reps with their roles at your company? If your response to that question is "don't know, don't care," then this article is for you. Employee satisfaction holds a great deal of sway over the success of your company, especially with customer-facing roles.
Written by Nick Johnson, Catharine Hays, Salesforce Blog
If you haven't put significant thought into a customer experience strategy, you should probably change that soon. This article is a great place to start! Expert Catharine Findiesen Hays offers five simple pieces of advice that could have a big impact on your bottom line.
Did we miss any great sales enablement articles for the month of May? Let us know in the comments!