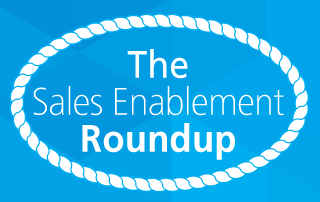 Greg Richards
Sales Enablement Roundup: June 2018's Best Articles
We've scoured the internet over the past month and put together the articles and blog posts on sales enablement you definitely will want to read:
Written by Dave Brock, Business2Community
Is sales enablement a full-time, long-term job? Most businesses set things up that way, with dedicated roles for sales enablement leaders. But what if you took a different approach? What if sales enablement were intentionally a temp job? On the surface, that probably sounds like a terrible idea, but read this article to get the full picture.
Written by Amy Franko, ATD
Getting buy-in can be easy, or it can be hard. It really all depends on who you're trying to get buy-in from. The marketing department? Usually the first to jump on board. C-Suite? That's definitely a different story. Fortunately, Amy Franko has provided an excellent guide on creating a business case that will appeal to the C-Suite.
Written by Sudipto Ghosh, MartechSeries
If there's one constant about B2B sales, it's that it's always changing. So what's the state of things in 2018? This interview with TechTarget's CMO, John Steinert, offers an overview of where things stand – a great read for sales leaders and marketers alike.
Written by Daniel Kuperman
If you think about the true purpose of sales training, it's all about improving your reps' ability to close deals. So if your reps aren't closing more deals after sales training, you're not getting a very good return on investment. To ensure solid ROI, make sure you're not falling for one of these common sales training myths.
Written by Bob Apollo, Customer Think
With the tracking and reporting capabilities of modern sales enablement platforms, there's no shortage of sales metrics to review. But not all of those metrics are created equal. Some of them, in fact, may do more harm than good if you don't know how to approach them properly. According to Bob Apollo, the metric you need to watch out for most is raw pipeline value. Read the article to find out why.
Did we miss any great sales enablement articles for the month of June? Let us know in the comments!
Sales training ROI, C-Suite buy-in, and counterproductive sales metrics – learn about these topics and more in this month's Sales Enablement Roundup!