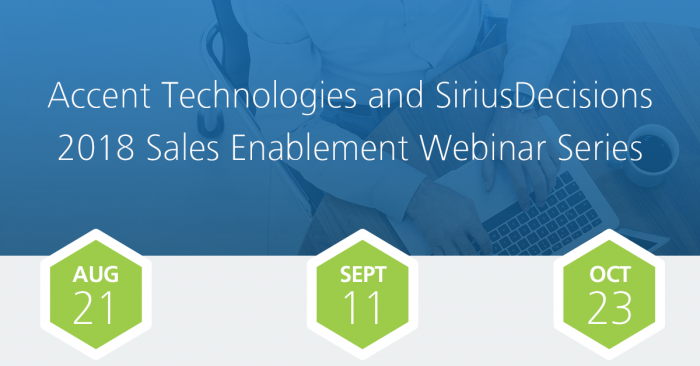 Greg Richards
Accent Technologies and SiriusDecisions Launch the 2018 Sales Enablement Webinar Series
Sales Enablement (SE) is one of the fastest-growing functions in companies today. However, the term means something different to almost every organization.
Accent Technologies and SiriusDecisions are partnering to bring a sales enablement webinar series covering some of the most common challenges SE leaders face today.
After attending this series, you will walk away with actionable takeaways and comprehensive guides to help you:
Build a sales enablement function
Create a quality sales onboarding program
Execute a successful sales advocacy program
Preregister for each session to make sure you get your recorded copy following the live session.
---
Building a Sales Enablement Function: What is Right for Me?
Tuesday, August 21
The opening session will provide specific methodologies for you to determine the right scope and execution of your sales enablement function. This information is brought to you by SiriusDecisions research and their Sales Enablement Range of Responsibilities Model.
Sales Onboarding: How to Maximize Both Quality and Quantity
Tuesday, September 11
In this webinar, SiriusDecisions will break down the elements of best-in-class sales onboarding via their Onboarding Execution Framework. The session will also introduce a unique approach to competency management that allows sales enablement leaders to hire efficiently without compromising the quality of the process.
Sales Advocacy: Concierges, Coaches and Councils
Tuesday, October 23
In the closing session, SiriusDecisions will cover the SE functions most instrumental to productivity, such as:
What typical sales communications are lacking
The definition of sales advocacy
How to deliver effective sales concierge services
How sales advisory councils impact revenue