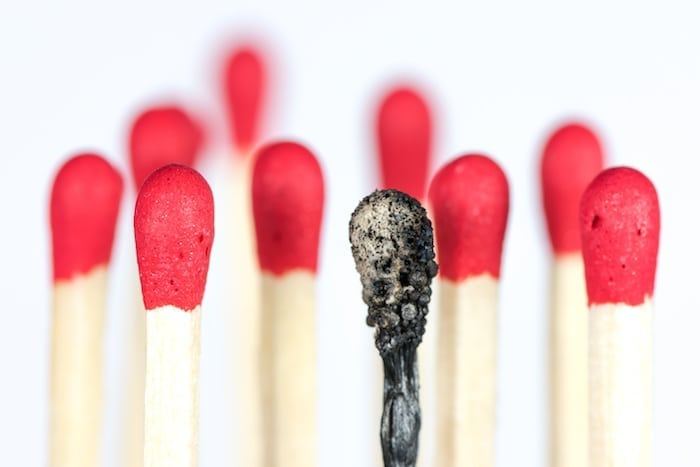 Greg Richards
13 Ways Employers Can Help Prevent Burnout
Work environments are often culprits for sales-rep burnout. When burnout happens it's hard to heal, so it's best to prevent it before the damage is done. Here are some practical suggestions:
1. Establish a culture of support. Being supportive of one another should be a prominent company value. This value should extend to all levels – from the C suite all the way down. Ongoing gossip or unhealthy corporate politics should be addressed quickly.
2. Encourage teamwork. Not only is collaboration and teamwork beneficial for effective selling, but it also enables employees to provide support to a struggling colleague. When the rest of the team notices signs of burnout, they can raise the issue.
3. Approve a paid mental health day when a rep needs one. Sometimes a day off to enjoy some self-care is all that is needed to strengthen a fatigued salesperson. Allowing for mental health days is much better for an organization than an epidemic of burnout. 
4. Give sales reps space on their vacations and days off. According to a Glassdoor survey, almost 30 percent of employees on vacation were contacted by a co-worker regarding something work-related. 25 percent were contacted by a boss. Contacting your team while they are on personal time can lead to burnout, so avoid emailing or calling them during their non-working hours.
5. Hold weekly meetings to ensure your team isn't overwhelmed. By scheduling time each week to listen to your reps, you're showing them that you care about their wellbeing. Empathetic listening helps them feel valued and appreciated. If some of your employees are feeling overwhelmed, find out why and do whatever it takes to improve the situation. 
6. Provide technology and resources for sales success. Equip your team with all the training and technology platforms they need for immediate success as well as future growth. When sales reps don't feel they have the tools to succeed, they become increasingly discouraged and strained.
7. Give positive feedback. Every employee needs constructive criticism sometimes. Just don't let your criticism of an employee become so commonplace that the rep feels unvalued or targeted. Focus also on a rep's wins. Even their little ones.
8. Talk to your team about burnout. Consider hosting a seminar and inviting a mental-health expert to discuss the latest burnout stats and information. This is the perfect occasion for raising awareness and asking questions.
9. Don't micromanage your team. Feeling caged-in by superiors is a fast-track to burnout, and micromanagement is a leading cause for turnover. In fact, research has even shown that micromanagers themselves are at higher risk for burnout. It's best to hire salespeople you trust and give them a large degree of freedom to succeed.
10. Accept and encourage your team's side-hustles. If some of your reps are fulfilling entrepreneurial dreams after hours, encourage them. Following one's passion is a great protection against burnout. It's better to have a motivated salesperson who eventually leaves to run their own company than to have a burned-out rep with no side hustle.
11. Manage your team equitably. Treat all employees fairly without playing favorites.
12. Operate with an open-door policy. One cause of burnout is the feeling that "my voice isn't heard," or "my opinion doesn't matter." Genuinely listen and empathize with reps when they raise concerns or come up with new ideas.
13. Establish consistently fair job requirements. Don't place overly-burdensome demands or quotas on reps when times get tough. It's better to hire another rep than to subject your existing team to burnout risks.
Check out Part 1 of this blog series for signs and symptoms of burnout.
Check out Part 3 for how to heal burnout after it's taken its toll.