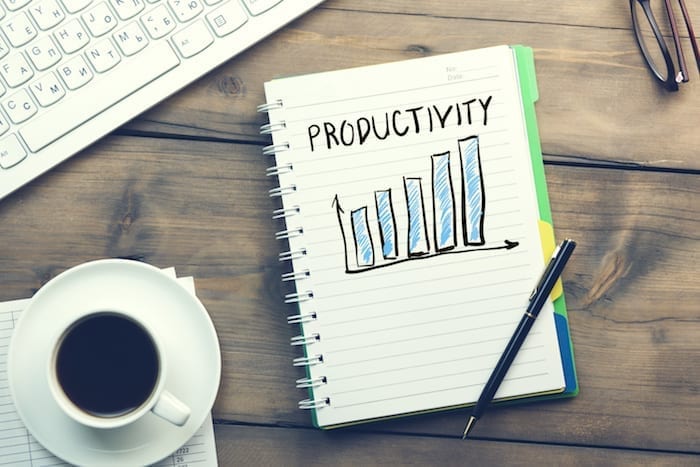 Greg Richards
15 Productivity Blogs & Podcasts to Help You Accomplish Anything
Productivity. Everyone wants more of it, but few people have achieved it to the fullest. To be truly effective in business and life, we need to adopt new mental models. Armed with better ways of thinking and optimized habits, productivity becomes a way of life where anything is achievable.
What follows is a list of 15 top blogs and podcasts from some of the most productive people on the planet. Over the next couple weeks, consider exploring these resources to discover which experts inspire you the most. Once you discover your favorites, you'll be on your way to a daily self-education in productivity.
Lifehacker curates valuable advice, tips and how-to information on varieties of subjects. But for purposes of this list, Lifehacker's weekly "How I Work" series is particularly useful. This is where the editors interview busy professionals who share their tips about workspaces, shortcuts, motivation and productivity.
If you've never visited Lifehacker, the suggestions below are great posts to start with. The first one is from the How I Work series.
Where to start:
Managed by writer and public speaker Shane Parrish, this Canadian website is devoted to helping you "master the best of what other people have already figured out." Its content helps readers become more productive, adopt effective learning habits and think in multidisciplinary ways. The result, according to Farnam Street, is to become better at the art of living.
Where to start:
If you'd like to see more from Farnam Street, check out their podcast as well. It's called "The Knowledge Project Podcast with Shane Parrish."
3. BLOG: 99U
Always a champion for productivity, 99U says "we don't want to give you more ideas – we want to empower you to make good on the ones you've got."
99U is owned by Adobe and venerated by creative people worldwide. Whether you're a creative professional in the marketing field, or you take creative approaches to the work you do in sales or other industries, 99U always inspires.
Be sure to see the "Get More Done" section of the blog.
Where to start:
American author and entrepreneur James Clear built his website to be the home of his life's work. On his site, you'll find a prolific collection of articles that have changed the lives of many devoted readers. His topics include productivity, health, happiness, creativity and much more.
James helps his readers form better habits, reduce procrastination, gain higher levels of grit and mental toughness, and even achieve better sleep. In his words, "The central question that drives my work is, 'How can we live better?' To answer that question, I like to write about science-based ways to solve practical problems."
Where to start:
After Chris Bailey graduated business school, he declined several job offers to pursue his own plan. For one year, he would learn everything he could about productivity and write about what he learned every day. His year-long project eventually turned into two books about productivity as well as his popular Life of Productivity blog.
To quote Chris, "There is nothing I'm obsessed about more than becoming more productive, besides helping other people become more productive. This site exists solely for that purpose…"
Where to start:
Michael Hyatt's blog has a fan base of successful, high-achieving professionals. His goal is to help his readers increase success and productivity – but not only in their careers. He's passionate about helping people be more fulfilled in their relationships, physical health, spirituality, intellectual growth, passions, hobbies and interests.
Michael and his contributors are always hard at work highlighting ways to help you win in all of life's domains.
Where to start:
Writer and entrepreneur Ryan Holiday has been the director of marketing for American Apparel, a media director, and the author of the best seller, "Trust Me, I'm Lying" (among other books.) His blog covers topics including productivity, motivation and entrepreneurial living.
Besides his own blog, his writing can be found in Fast Company, Entrepreneur, The Huffington Post, Forbes, and many other outlets.
Where to start:
Productivity guru Tim Ferriss created the first business podcast to exceed 100M downloads. Currently, it has been downloaded over 300M times, which reflects its positive impact on entrepreneurs and executives worldwide. Tim is also the author of best-selling books such as the 4-Hour Workweek, the 4-Hour Chef and Tribe of Mentors.
Besides featuring his own thought leadership, Tim also interviews other inspiring leaders for diverse perspectives on productivity, business and life.
Where to start:
The Knowledge Project is the popular podcast of the Farnam Street blog. It "explores the ideas, methods, and mental models that help expand your mind, live deliberately, and master the best of what other people have already figured out." If you like Farnam Street, you'll love The Knowledge Project.
Where to start: 
As his podcast's name implies, author and keynote speaker Jeff Sanders loves early mornings. It's no wonder that his goal is to "help you bounce out of bed with enthusiasm, create powerful lifelong habits, and tackle your grandest goals with extraordinary energy." Designed for those who want to become high achievers, Jeff's podcast focuses on productivity, personal development, early mornings and healthy habits.
Where to start: 
As the founder of several multi-million-dollar companies, Kevin Kruse is a fountain of advice on success, perseverance and productivity. One of Kevin's missions is to help you double your productivity without feeling overworked and overwhelmed.
Besides his podcast, he's also written a book titled "15 Secrets Successful People Know About Time Management: The Productivity Habits of 7 Billionaires, 13 Olympic Athletes, 29 Straight-A Students, and 239 Entrepreneurs."
Where to start:
According to Mike Vardy, founder of Productivityist, productivity is all about crafting your time. Mike's mission is to help you do just that. In his own words, "I'm here to show you how to define your day, funnel your focus, and make every moment matter."
A productivityist is someone who stops "doing" productive and starts "being" productive. It's a great concept, and you can read more about it here.
Where to start:
GTD (Getting Things Done) was founded by David Allen, one of the world's leading authorities in organizational and personal productivity. His book, Getting Things Done, is published in 28 languages and was called "the defining self-help business book of its time" by TIME magazine.
According to David, "GTD® enables greater performance, capacity, and innovation. It alleviates the feeling of overwhelm – instilling focus, clarity, and confidence." To start applying some of David's tactics in your life right now, check out his Five Simple Steps that Apply Order to Chaos.
Where to start:
An irresistible mix of practicality and entertainment, the Back to Work podcast is hosted by Merlin Mann and Dan Benjamin. The duo is known for their thorough discussions on life and productivity as well as their senses of humor that make each podcast fun. Other topics include tech, expectations, identity, work, and whatever else is deemed relevant to the hosts!
Where to start:
The host of the Action Catalyst, Dan Moore, has over 45 years in sales leadership and marketing management. In each podcast, Dan interviews thought leaders to share some of the most informed advice available on productivity and business.
According to the podcast's description, "the Action Catalyst uncovers inspiration and insights to help you overcome setbacks, defeat the common tendency to descend into mediocrity, and continually re-focus on achieving our goals in life."
Where to start:
The Journey of Productivity Begins
If you check out one of these blogs and podcasts every day, that's two weeks plus one day's worth of exploring. (Hint: the podcasts make for perfect listening material on morning commutes.)
Whether you decide to binge through these resources in one day or take your time visiting them over a couple weeks, we hope you'll find them valuable. Who knows… This could be the beginning of a lifelong journey of productivity.