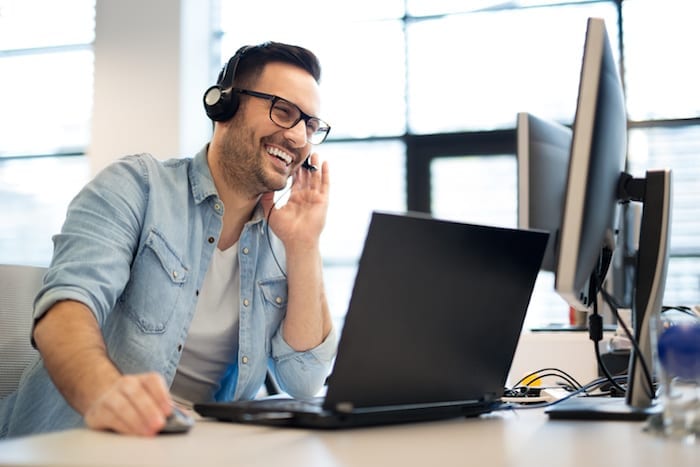 Greg Richards
Part 2: Mastering Client Communications
If your company provides a service to other businesses, you'll need to communicate regularly with your clients. Whether you're working on an IT project, construction services, a marketing project or nearly any other type of service, your clients need to be informed every step of the way.

Problem: haphazard communication
Too often, businesses and service providers are disorganized in their communications. Without a strategy, communication often happens too late, too early or to the wrong people altogether. Even worse, unprepared organizations often wait until there's a crisis before communicating to the relevant people.
Not only does poorly-planned communication frustrate clients, but it also reflects negatively on your company. When clients receive an abundance of unimportant information and not enough relevant communication, they begin to wonder if they've trusted their project to the right service provider.
The worst-case scenario caused by haphazard communication is a derailed project. Vital feedback gets skipped over, approvals don't take place and crucial deadlines are missed. In fact, according to a study by the Project Management Institute:
"Ineffective communications is the primary contributor to project failure one third of the time, and had a negative impact on project success more than half the time."
Solution: Create a client communications plan

Rather than "winging" your communications and operating haphazardly, you can create a client communications plan for each project you execute. A client communications plan is a document (typically a spreadsheet) that lists:
All stakeholders involved in a project,
their interest and influence over the project,
the kinds of information each stakeholder wants to receive about the project,
how often they want to receive the information.
The client communications plan is oftentimes created by the project manager, who shares the document with the entire project team.
How to Create a Client Communication Plan
If you'd like to create a client communications plan for your upcoming project, here are some practical steps.
PROJECT: As we go through the steps, we'll create a hypothetical project of an ecommerce website that your team has been hired to redesign and rebrand.
STEP ONE: Determine Your Stakeholders
A stakeholder is any person who has an interest in the project you're working on. There are at least four categories of stakeholders you could include in your communications plan.
External stakeholders
These are members of your client's team who have an interest in the project. These might include the main client team, managers and top executives,
Internal stakeholders
These are the people in your company who aren't directly working on the project but who have a vested interest in its success. Examples are your company's executive leadership, accounting managers, traffic manager, etc.
Internal project-team stakeholders
Members of your project team, vendors, account director, etc. Internal stakeholders and internal project team stakeholders are just as important to your client communications plan as external stakeholders. It's not enough to organize your communications to clients. The internal project team needs to regulate and systematize their communications with each other as well.
Third-party stakeholders
These are people who aren't on your internal team or the client's project team but are still interested in the project's success. These could be journalists,
industry influencers, brand evangelists, community activists, the client's customers, etc. Communicating with third-party stakeholders helps maintain good marketing and public relations.
Let's make up a scenario of a project team that's tasked with re-branding an ecommerce website. The team would have to regularly communicate with internal stakeholders like designers and copywriters, external stakeholders like IT and conversion analysts, and third-party stakeholders like brand evangelists.
Once you know who your stakeholders are, you can add them to a spreadsheet. Include their names, titles, and whether they are internal, external or third-party stakeholders.
STEP TWO: Determine Stakeholder Interest and Influence
When building your communications plan, it's important to know who has a high vested interest and influence over the direction and approvals of the project. It will be especially important to keep these stakeholders in the loop throughout the project, so you can ensure you'll be given all the resources you need for success.
Some stakeholders will have a great deal of interest in a project but little influence over it. And some will have low interest but high influence. In any case, knowing this information will help prioritize the way you and your team communicate with clients.
Once you've determined stakeholder interest and influence levels, you can add these columns to the spreadsheet. You can list influence and interest levels using a scale of "high, medium, low," or number systems of 1 – 3, 1 – 5, or even as precise as 1 – 10. There's no set rule, so do whatever works best for you particular client communications plan. 
STEP THREE: Stakeholder Communication Needs
Now that you've determined stakeholder interest and influence, you can pinpoint each stakeholder's communication needs. Add the following to your communications plan:
What information you think the stakeholder should know
How often should they receive the information
The communication method(s) that should be used for each stakeholder – email, phone, meeting, Skype, etc.
If you're unsure about the information needs of each stakeholder, ask them about the level of communication details they'd like to receive as the project progresses.
Keep in mind that the highest-level stakeholders, such as the client's CEO and other executives, are very time restricted. Although they'll want to be kept in the communication loop, they might only want brief overviews rather than getting swamped in the small details.
Also, while third-party stakeholders like to be informed, not all of them need as much detail as internal project-team stakeholders.
In our example (below) of the ecommerce-website redesign, the customers of the site will receive an email only when the new design has been rolled out.
Likewise, the brand evangelist listed on the communications plan will only need two emails: One email the week before the project is complete (so she can get her social-media followers excited,) and another email once the redesign has launched.
Finally, add a column for each stakeholders communication details. If you can't fit all contact info into one column, add separate columns for email, phone, Skype, etc.
Project Name and Date Range
Finally, add fields at the top of the spreadsheet for the project name, client, estimated date range, and any other information you feel is important.
Although every client communications plan is different, your finished spreadsheet might look something like this:
A Dynamic, Living Document
One great thing about creating a client communications plan using the above steps is that this spreadsheet becomes a living document. You can share it with your team, gain their feedback, and continuously improve and refine it to suit your project's unique needs.
The bottom line is that there's no "one right way" to create a communications plan. If something different or unusual works for your team, do it.
Better Communications, Better Business Reputation
It's amazing how an improvement in communication can increase client satisfaction and boost a business' reputation. In many ways, excellent communication is just as important as successful project results.
Consider holding an internal communications meeting to get your entire team on board before starting your next big project. Discuss the importance of a client communications plan and generate thoughts and ideas. Once your team gets proficient at using such a plan, they'll never want to go back to working without one.