Accent Technologies
13 Ways to Keep Remote Sales Teams Motivated
The concept of remote work might be new to most people, but it has actually been around for some time, even before the pandemic.
In the US, 17% of all employees worked from home for at least five days a week pre-COVID.
This spiked to 44% when the virus hit as city-wide lockdowns and quarantine protocols made it almost impossible for workers to commute to their offices.
In addition, it points them in the right direction and allows them to get their bearings from time to time. The path to the main business objective is often long and winding — it is seldom a straight line. In short, it is very easy for your team to lose focus, so a little guidance is necessary.
Implement structured timelines for check-ins and coaching sessions to ensure that everyone is on the same page moving forward.
2. Build a Trusting Relationship
Trust is important in making teams effective, especially when it comes to sales. It creates a safe environment where reps feel more comfortable not only with each other but with their supervisor as well.
When they feel safe, they are more likely to open up and share some insights that could prove vital in maintaining quotas and hitting sales goals.
They will also be more confident in taking appropriate risks and identifying opportunities for improvement, making your team more productive.
However, building trust takes time, especially if your team is not physically in the same office working eight hours a day or more shoulder-to-shoulder.
To speed up the process, leverage technology and use it to its fullest.
There are many online and mobile communication platforms that can help your team stay in touch with each other and with you.
One good example is Zoom. Zoom is a cloud-based video conferencing app that allows people in different locations to communicate effectively.
It comes in a free version, but it is better if you invest in a paid plan to unlock useful features like transcript recording and branding.
3. Stay Connected With Your Remote Team
Once you have established a trusting relationship with and among your sales reps, make sure that you nurture it by staying connected with them. As much as possible, cultivate a more personal bond.
Doing so will make it easier to break emotional barriers and overcome challenges. Your sales reps will be more willing to help each other and go the extra mile for the company if they are emotionally invested.
Again, technology is your friend and ally when it comes to strengthening your connection with your remote team and motivating sales staff. For instance, the video conferences will allow your reps to give a glimpse of their home and their lives outside of work.
This type of work environment is more receptive to playful and fun moments like when a pet momentarily hijacks the meeting. The right amount of these ice breakers can help your reps let their guard down, bringing your team closer together.
Complete the form to watch Leading Remote Teams in a Crisis Environment with retired four-star general Stan McChrystal. Stan is the former commander of US and International Security Assistance Forces (ISAF) Afghanistan and the former commander of the nation's premier military counter-terrorism force, Joint Special Operations Command (JSOC). He is best known for developing and implementing a comprehensive counterinsurgency strategy in Afghanistan, and for creating a cohesive counter-terrorism organization that revolutionized the interagency operating culture.
Stan McChrystal founded McChrystal Group in January 2011 to deliver innovative leadership solutions to businesses globally in order to help them transform and succeed in challenging, dynamic environments. As Founder and a Partner, he advises senior executives at multinational corporations on navigating complex change and building stronger teams.
4. Keep Track of Sales Activities
Your job is not done once you have established a goal for your remote team and given each of the members a target.
Sales is not a set-and-forget business and you can't just give people an objective and expect them to deliver.
After setting the expectations, keep track of your team's sales activities. Doing so will give you the opportunity to make the necessary adjustments when a member starts to drift.
This is especially important in the remote work setting where sales reps have more autonomy than in the office.
However, how do you do this effectively from a different physical location? One way is by investing in the appropriate software solutions. There are route planner apps that will allow you to keep track of your sales team while they are on the field.
There are also time-tracking tools that will help your team manage distractions at home and maintain consistent work hours.
Keeping track of your remote team's sales activities is important, and it takes a lot of work, but you can let technology do the heavy lifting.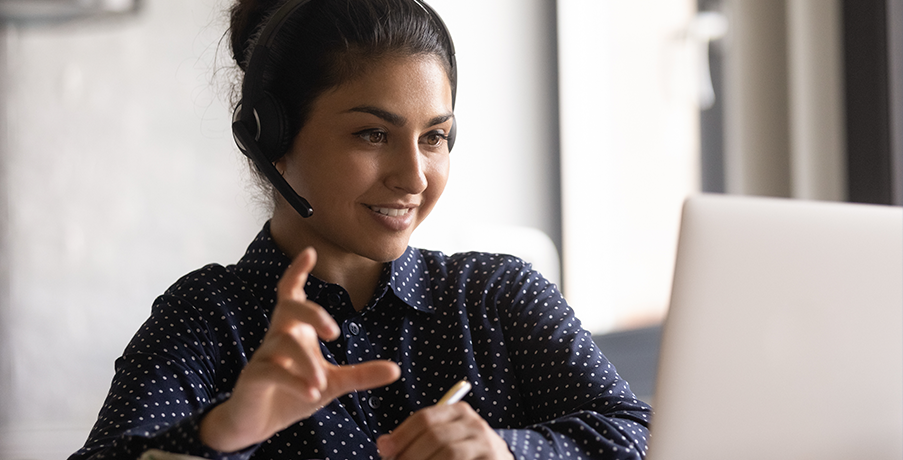 5. Ask For Feedback Regularly
Establishing clear goals and setting expectations is important, and it has proven to be an effective business strategy for many successful companies.
However, note that no matter how much you prepare, things often do not go as planned. It is even possible that what you thought were reasonable quotas would turn out to be too much for your team as the situation evolves.
When this happens, it is very easy for your reps to lose focus or lose sight of what is important as they get caught up in their own struggles.
Your best course of action is to nip this in the bud by encouraging your reps to openly give their feedback about anything that they feel is important or helpful.
Keeping your virtual door open allows you to take the necessary steps before the problem escalates and is one of the best ways to energize sales and marketing teams.
6. Update Your Team Regularly
While it is important for your remote team to keep you in the loop, the reverse is also true.
Motivating remote sales team members effectively also requires that you keep them updated about the latest business developments that impact them and the company.
It allows them to feel that they are part of something bigger, making it easier for you to keep them engaged.
When you update your team, make sure that you do not talk exclusively about the sales numbers. Take time to share important news about other departments and the company as a whole.
Try to get a feel for your team's mood while you are updating them, and if you think that they are being too serious, do not hesitate to inject some humor.
7. Create a Routine But Allow Some Flexibility
Different people have varying working habits and preferences in work hours. With the flexibility that comes from remote working, it might be difficult for you to set a rhythm for your reps if you leave them to their own devices.
Their schedules would not sync, and they would not be able to leverage the communication platforms that you invested in like video conferencing and live chats.
Try to create a routine for them through regular standup meetings and cadence calls. In doing so, you can optimize their accessibility to each other and to you.
However, be mindful of being too rigid. One of the biggest draws of remote working is its fluidity, and you should not take this away from them.
8. Give Your Team the Right Tools
Nothing is more frustrating for a sales rep than not having the things necessary to get the job done. This is especially true in the remote work setup where they would have no access to the office equipment.
No matter how skilled or hard-working your reps are, they would not be able to match the output of a team using productivity-enhancing software solutions.
Digital tools have evolved rapidly in the past few years and it has allowed people to do things never thought possible before, and at a rapid pace.
That is why it is very important that you make your team's job as easy as possible by giving them the right tools.
A good example is a comprehensive Customer Relationship Management or CRM tool that supports data sharing, communication, and collaboration, and makes it easier for your reps to interact with existing and potential customers.
If you are wondering how to motivate remote workers in sales, investing in these solutions is a big step in the right direction.
9. Encourage the Buddy System
Working at home, away from colleagues can leave your reps feeling alienated and distant from one another. When this happens, their camaraderie will deteriorate and you may end up with a fragmented team with each member working in a silo.
While giving them the appropriate communication tools can help prevent this, there is another thing that you can do to ensure a smooth relationship within your team: encourage your reps to work closely in pairs.
Implementing a buddy system will ensure that each sales rep has someone whom they can reach out to and share ideas with at any time of the day without having to wait for scheduled meetings.
10. Use an Internal Communication Tool
Aside from investing in a tool that will allow your reps to interact with clients, make sure that you also use tools that will enhance internal communication among your reps.
We have already discussed this in passing in the previous sections, but this strategy is extremely important and bears mentioning again.
Having a platform where your reps can share ideas and knowledge or have work-related or even personal conversations can enhance their relationships and make them more productive.
11. Invest in an Ongoing Training Program
New trends emerge all the time, and consumer behavior constantly changes as technology evolves. For your team to stay effective and ahead of the curve, you should make sure that their skills remain relevant despite the changing times.
One way to do this is by investing in an ongoing training program that your reps can finish at home.
Face-to-face training has proven to be successful in the past, but there is no reason for online training programs not to be equally effective.
If you are wondering how to incentivize sales reps working at home, pay for online courses that will make them better at their jobs.
12. Schedule Regular Town Hall Meetings
To promote a workplace built on trust, make your sales reps feel that they are seen and heard, especially by those in the highest levels of the company. Holding regular town hall meetings offers the perfect opportunity for this.
It will give your reps the chance to ask the CEO directly about things that are important to them. They can also submit their questions anonymously if this is what they prefer.
13. Recognize Great Performance
Recognizing a team for a great performance is important now more than ever, given the challenges they have to face to deliver the results. But how do you do this under the current situation?
One way is by holding a video conference where the whole team is invited to join. It is the next best thing if gathering together in one place is not yet allowed.
If there are physical tokens or gifts involved, try to arrange for them to arrive at the recipient's address on the day of the virtual ceremony.
Working remotely comes with a lot of benefits, not only for your sales team but for the whole organization as well. While it comes with its own set of challenges, there are many ways to overcome it, especially with the way digital technology is advancing.
Subscribe to Accent's Blog
Get Accent's latest sales enablement articles straight to your inbox.