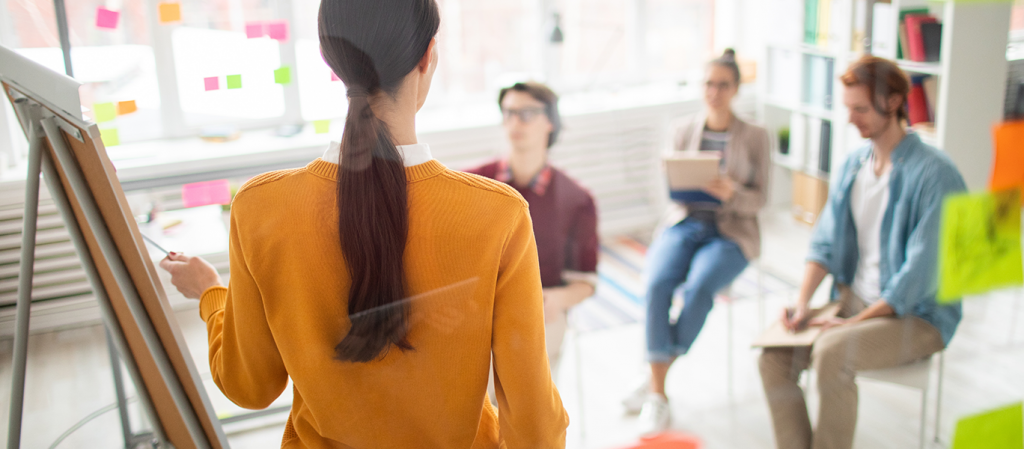 Accent Technologies
How to Upskill and Reskill Sellers  
The COVID-19 pandemic and lockdowns have changed almost all businesses across all sectors. 
Thanks to the pandemic, there's a new normal in the business world — reskilling and upskilling. 
This post will examine the two strategies and how companies can use them to adapt to changes in the ever-dynamic business world.  
What is Upskilling?
Upskilling involves equipping your employees with new skills to optimize their performance. Think of it as additional training to help them achieve better results. 
There are several ways to implement upskilling, depending on the organization. Sales training best practices to upskill your team include evaluation, collaboration, and enrolling members for one-on-one B2B sales training courses.  
The Benefits of Reskilling and Upskilling
Reskilling and upskilling are more crucial now than ever before. 
In a time when many companies cannot afford to hire new talent having a robust reskilling program can benefit your business in the following ways: 
It'll Help Save Time and Minimize Costs
According to the Human Resource Management (SHRM) research, it can cost 6 to 9 months of an employee's salary to replace them. For instance, if the employee is earning $60,000 per year, that works out to $30,000 to $45,000 in recurring and training costs. 
And, you aren't always sure the new employee will be better than the current one. You can't even tell if the new hire will stick with your company for long. 
Leveraging b2b sales training programs as part of your reskilling strategy allows you to bypass this problem, saving time and money. 
On top of that, companies that educate their sellers find greater effectiveness and efficiency, resulting in greater customer satisfaction. 
It's Easier to Retain Top Talent
70% of employees would leave their current position for a job with an organization known for investing in employee training and development. 
B2B sales training is crucial to managing a company's turnover rate. To hone their skills and become experts in their field, your sales team needs to gain knowledge and experience. That's only possible with a flexible reskilling program that allows them to advance in their career, connect with new teams, and learn new skills. 
On the flip side, if sellers feel their exposure and growth are stagnant in a company, they'll leave for better opportunities.  
It's Easier to Attract New Talent
Statistics availed by ClearCompany indicate that 76% of employees are in pursuit of opportunities to expand their careers.  
The availability of these opportunities indicates investment by an organization in its employees.  
Companies that know how to upskill and reskill employees record 218% higher income per employee than organizations without a formalized B2B sales training program.  
It doesn't stop there. Businesses that conduct free B2B sales training sessions enjoy increased productivity as employees feel motivated to perform better.   
Three Ways to Hone Your Team's Skills and Transform Their Performance
The best B2B training strategy for sellers should aim to achieve the following: 
Improve engagement 

 

Provide hand-on skills 

 
Allow sellers to hone their skills and become experts in their field 

 
The more you can get your B2B sales training topics correct, the easier it is for your sellers to shift and adapt quickly when your business shifts. 
That said, here's how to develop new work skills with upskilling and reskilling; 
1 Deliver Skill-Based Training Directly to the Individual
Ensure that you're investing time into a reskilling program relevant to your specific sellers. Personalize the training as much as possible.  
Remember, not only do people learn differently, but the skills that different team members need also vary based on the current domain.  
So, consider grouping learners into categories when developing B2B sales training topics to reskill and upskill your sellers. For example, by the time at the company, location, role, work modality, etc. 
You'll also want to record training sessions that you can use later to reskill new employees or as a refresher course.  
In addition, be sure to track KPIs like the seller's engagement, performance, and activities to know if your training program is effective. Tracking these KPIs can also help you make data-driven reskilling decisions in the future.  
2 Develop Performance Leaders
Quality sales training for B2B sellers involves equipping your team with the visibility and insight they need to hone their trade. 
It involves giving the sellers the necessary knowledge to take your business to the next level. A well-thought-out reskilling program can give your team a better understanding of your products, services, and company. 
The more your sellers know about your business, the more effective they'll be when talking to customers and positioning your brand. 
In addition, Equipping sales leadership with tools and solutions to analyze rep performance is critical. It enables them to understand the training's effectiveness better. 
It also helps identify gaps in the training, allowing leadership and sales enablement to course-correct and adjust the program, improving your team's overall performance. 
3 Put Learning into Context
Contextual reskilling and upskilling allow your sellers to learn in real-time. It also lets your team access training at the moment and directly in the flow of work. 
You can achieve this by delivering content: 
In context to a selling situation

 

Together with — or within the same system — as sales content to boost confidence and competency

 
Based on relevance to a seller's opportunities

 
By applying what they need to know within deals, your team will sell more, faster. 
How to Get Your Team to Embrace Reskilling and Upskilling Efforts
A McKinsey Global Survey found that 87% of executives were experiencing skill gaps in their workforce. But less than 50% had a clear strategy for addressing the situation. 
That said, here's how to upskill and reskill a team; 
Make the Training Easily Accessible
To increase the chances of your sales team completing training, make it accessible. Remember, people want fast and easy. 
One of the best ways to go about it is offering B2B sales training online. This way, the sellers have flexible access to information, aligning with their on-the-go nature of work. 
Align Goals and Expectations
Consider what you, as a leader, need your sales team to know to achieve your company's goals. This way, you can focus on teaching your sellers skills that can contribute to your organization's success. 
On top of that, your recommendations must be relevant and actionable for specific scenarios. To achieve this: 
Evaluate your company's current situation

 

Set

S

pecific,

M

easurable,

A

ttainable,

R

elevant,

T

ime-based goals

 

Determine the skill required or missing in your company to achieve those objectives

 
Provide Clear Value to Your Team
To eliminate resistance, give your sales rep solid reasons to enroll in your reskilling or upskilling program. 
You want them to see the real value by providing visibility and insights into growth and development. Think of it as a way to convince the seller that the program is meant to help them hone their skills — and not just another tool for middle or upper management.   
The Bottom Line
Organizations must determine how to adapt to the shifting conditions and how to match employees to these changing dynamics. 
As Challenger's CEO Andee Harris put it, "to execute with confidence and achieve success in the sales moments, today's sellers need continual access to skill training, tools, and support resources in their daily workflow. This means relevant content is at the seller's fingertips in the moment of action. 
Ready to reskill or upskill your sellers? 
Check out Accent Sales, an AI-powered solution designed to lower cost, add scalability, train fast and deliver data-driven insights for organizations that want to reskill or upskill sellers.  
Accent Sales Enablement helps you fill skill cracks before they become gaps.