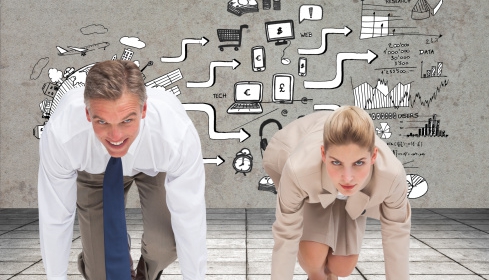 Greg Richards
Sales Preparation: Resources Matter For Sales Reps
"Someone's sitting in the shade today because someone planted a tree a long time ago." Warren Buffett's words speckle the notebooks of investment moguls and inspire the minds of business enthusiasts far and wide – and for good reason. He simply makes sense. When it comes to sales preparation, it all comes down to the good, old-fashioned sense to use what you've got and the guile to get what you need.
Our last few posts have discussed the science of sales enablement for sales reps, outlining and introducing the main variables involved: planning, preparing and engaging. So far, we've broken out the three elements of that initial sales planning stage: visibility, analysis and prioritization.
Now we're onto preparation, and we'll start with its foundational element: sales resources … because that only makes sense, right?
Sales preparation: RESOURCES, collaboration and guidance.
Reps with fast, easy access to all sales resources have a clear competitive advantage.
They must react quickly to buyers, from anywhere, at any time – whether airplane or train, office or home terrain.
They must respond with accuracy, affability and distinguishing personalization – showing that they're really there and actually care.
They must be on alert and in tune, anticipating opportunities before they arise.
They must be primed and on point, taking action as leads materialize.
Creating a central location for all critical resources is fundamental because it gives sales reps ONE accessible portal for all sales materials, marketing content, coaching tips, subject-matter expertise and intra-team communication/collaboration tools.
Without this unified, streamlined hub of resources, sales reps simply can't prepare from a place of strategy – no matter how crafty they are or unruffled they seem – or respond with the deliberate authenticity that today's buyers demand.
"As much as 40% of a sales rep's time is spent creating presentations, customizing messaging and preparing for pitches." This is precious time taken from those 1:1 points in the sales process.
Arming Your Reps With A Differentiated Sales Message via CEB Sales Leadership Council

A genuine 1:1 sales strategy matters to today's social buyers. "Sales reps who spent 35% or less of their time selling by phone or face-to-face achieved quota only 55% of the time. When they upped the 1:1 ante to more than 45%, the chances of them making quota hit 62%."
Sales Optimization Survey via CSO Insights

"Sales studies consistently show that anywhere from 35-50% of all sales go to the agent who makes first contact." Remember: Quick is good, but quick and customized is best.
Chaotic Flow Blog via Joel York

"84% of participants in a sales enablement study indicate high sales effectiveness when there is availability of, and access to, relevant content for reps to use with prospects."
Aberdeen

"While sales and marketing squabble, the customer becomes increasingly unhappy with their sales interactions, which they claim are 'unproductive' 97% of the time."


Sales And Marketing Alignment Begins With The Customer via Forbes' Christine Crandell
Sure, a wily rep may "get by" and "do just fine" without strategic resources to guide preparation, but that insight void eventually rattles their game. And sales preparation for sustainable success is about the long run, not the split-second sprint.
When preparing the sales strategy, resources matter.
Here's how a Sales Enablement Platform unlocks the resource portal for strategic preparation and long-term thinking:
See it all, and do it all, in one place.
Open up the Resource Library for everything the sales team needs in one place – accessible from anywhere, at any time, on any device.
Grab and send personalized follow-up materials right after a meeting to really wow those prospects.
Just say no to resource digging.
Have constant awareness of all resources available.
Get instant recommendations on which ones are right for each sales opportunity.
We mean it: No. More. Digging.
Refine search filters for that super-specific buyer persona who needs hyper-personalized sales materials.
Click-and-tap recommendations into exactly what you need for that goldmine of intricate and sensitive buying situations.
Lock down and mark up resources for your savvy buyers, and for your own sales betterment: from documents, pages, slides and media files to subject-matter experts (SMEs), training tips and coaching videos.
Get sales plays going – right here, right now.
Use Sales Plays to bundle all of the resources you need into one action plan.
Combine appropriate materials and conversation guides with appropriate SMEs and management coaches.
Execute quick-and-easy mini plans that keep deals in motion.
Follow the playbook brick road.
Sales Playbooks guide you through your sales process with user-friendly agility.
Deliver everything you want, when your buyers need it most.
Clear away confusion and chaos with one-click insight that keeps things on track.
Interact with resources, and make them better.
See which materials sales reps rate most useful to guide your own resource strategy.
Read others' comments to understand why certain sales materials and marketing content perform better.
Help improve the resource database based on ratings, comments and feedback.
Add your own ratings, comments and feedback.
Next element to dissect:
The lines are permanently blurred (and rightfully so) between resources and our next element in the sales preparation variable: COLLABORATION.
Fill out the form below to see how a Sales Enablement Platform puts your reps in the pilot's seat for every resource they need.