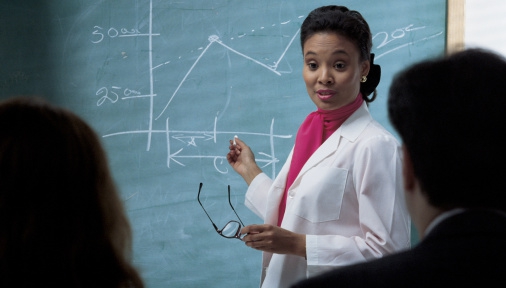 Greg Richards
Sales Preparation: Guidance Matters For Sales Reps
We're onto the third and final element of sales preparation: guidance. It's what closes the gap between your promising sales team and those begrudging sales quotas.
RECAP:
We've been discussing the science of sales enablement for sales reps, outlining the formula's three chief variables: planning, preparing and engaging, as well as their essential elements.
So far, we've broken out the initial variable, sales planning, into three elements – visibility, analysis and prioritization – and the second variable, sales preparation, into its first two elements, resources and collaboration.
So, as previously stated, we're up to guidance: the third and final element of the preparation stage for sales reps.
Sales preparation: resources, collaboration and GUIDANCE.
Forrester Research tells us that the inability to deliver effective value messages is the main hindrance between the sales team and its sales quotas.
What to say to buyers is key.
When to say it is key.
How to deliver it is key.
Short story even shorter: Every aspect of messaging in the sales process – from what to say to when and how to say it – is critical to sales enablement and, ultimately, sales success.
"The biggest inhibitor to achieving sales quotas is the inability to communicate valuable messages."
Forrester Research
"75% of sales reps believe that their approach differentiates them from their competition, but only 3% of customers agree."
Trust And Value: New Insight On Timeless Selling Principles via Sales 2.0 Conference
"Only 17% of existing sales reps score high on the competencies required for success in insight selling."
Dismantling The Sales Machine via Harvard Business Review
Sales reps need fast and easy access to the right marketing content, sales materials but coaching and conversation guides to address each buyer's needs and answer any question he or she may have. Top reps go way beyond product information, tapping into educational insight and challenging perspectives that help buying teams understand risks, unearth opportunities and uncap competitive advantages. In return sales reps need their own coaching and guidance to offer that experience to buyers.
When preparing the sales strategy, guidance matters.
Here's how a Sales Enablement Platform brings guidance to the table for sales preparation:
Coaching on opportunities.
Get coaching on opportunity specifics, e.g., how to turn a negative buyer positive or how to overcome a competitive challenge.
See clearly into each situation and inject your own guidance on opportunity strategy.
Coaching on context.
Capture and spread coaching points across the sales team with recommendations based on the data-driven success of specific guidance regimes.

Unlock automated coaching for fast, frontline support during more run-of-the-mill situations.
Coaching on value messaging.
Leverage conversation guides and value message cards to guide sales reps in asking the right questions and making the right points.
Ensure that all messaging is consistent, cogent and marketing-approved.
Coaching on sales plays.
Use the Sales Plays tool for guidance on how to handle specific situations and achieve precise opportunity objectives.

Give sales reps the instructive insight they need to move deals forward quickly and confidently.
Ask the coach.
Give reps the option to "ask the coach for advice" when they hit a speed bump.
Get answers quickly and easily after the coach reviews your situation, conducts a quick analysis and gets a feel for what's going on.
Embed your training.
Watch a quick video on how to answer a question, present a product or handle a negative situation.
Never block out a two-day training session again. Context-based training is always there, when you need it and when you have time for it.
This marks the end of our sales preparation articles.
Resources, check.
Collaboration, check.
Guidance, check.
Next up in the sales enablement formula is the engagement variable.
Stay tuned to dissect the first element in sales engagement: DELIVERY.
Fill out the form below to see how a Sales Enablement Platform gives the gift of guidance to your reps for game-changing sales strategy and impressive win rates.