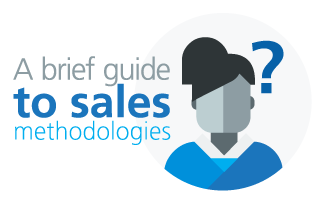 Greg Richards
A Brief Guide to Sales Methodologies
"Which sales methodology is right for my sales team?" It's a question we hear a lot, and unfortunately the answer is rarely black and white.
Sales methodologies are an excellent way to add structure to your sales process. However, certain sales methodologies aren't for everyone. It's important to find a methodology that works well for your unique selling environment.
We've provided brief summaries of 10 common sales methodologies below, in no particular order. You'll notice that all of the sales methodologies have something in common: They all have an easy, step-by-step process to follow, with flexibility for the unique traits of individual buying processes and sellers.
While each methodology goes far beyond the few paragraphs we've devoted to each one here, this post will hopefully set you on the right track by letting you assess which option best fits your company's needs:
Miller-Heiman (Conceptual Selling)
Conceptual Selling, developed by Stephen Heiman and Robert Miller, focuses on the idea of selling a concept to your buyer, not a concrete product. Your sales reps' goal is to discover the concept that your buyer is looking for by following a three-step approach:
Get information: Find out who your buyer is and what they're looking for (AKA their concept).
Give information: Tie the buyer's concept to your product by showing how your solution can help achieve that concept.
Get commitment: Consistently move the deal forward by getting your buyer to commit to the next step (e.g. another demo, a call with IT, a date for project implementation, etc.)
Interested in learning more? Read the updated book: The New Conceptual Selling.
SNAP Selling
SNAP Selling is a very customer-focused approach that addresses the shortcomings inherent in selling to the modern day buyer: frazzled, deadline-driven and overwhelmed with information overload. It focuses on four main rules:
Keep it Simple: Your goal is to make the buying process as easy and clear for your buyers as possible.
Be iNvaluable: Become the primary resource your buyer goes to for information and guidance.
Always Align: Synchronize your selling process with your buyer's journey, needs, objectives, etc.
Raise Priorities: Don't let your buyer get lost in the details. Instead, keep your buyer focused on the biggest priorities.
SPIN Selling
SPIN Selling is based on the insightful questions sales reps should ask their buyers in order to fully understand their buyer's journey.
Situational: Learn your buyer's industry, company size, relevant departments, current "solution," etc. This is analogous to your buyer's persona. Once you understand your buyer's situation, you will have a far better idea of the scope of their problem.
Problem: Your buyer has a pain point. That's why they're contacting you. Ask questions that reveal the details of their problem.
Implication: Challenge your buyers by asking them to consider the negative outcomes that will arise by not choosing a solution. Where will the status quo lead them?
Need-payoff: End on a positive note. Find out what your buyer hopes to achieve, then challenge them to consider even further positive results that hadn't yet occurred to them.
Read Neil Rackham's original book on SPIN Selling to learn more.
Solution Selling
Solution Selling teaches that reps should focus less on specific products and more on providing their buyers with a solution that addresses their pain points.
Solution Selling has evolved over the years, but it boils down to following these nine steps:
Prospecting
Diagnosing customer needs
Crafting a potential solution
Establishing value
Understanding the buying center / DMU decision making unit
Bargaining for access to decision-makers
Positioning proof, ROI and the total solution
Negotiating a win-win solution
Following up to ensure customer success
Solution Selling gained popularity due to this book published in 1994, and it remains a popular sales methodology today. Sales enablement software can help, learn more here.
MEDDIC
MEDDIC is very information-driven, giving sales reps the areas they need to focus on obtaining useful information in order to qualify and secure the deal. It uses the buyer's information to align the sales rep's processes with what the buyer expects.
Metrics: Use metrics to quantify the deal's value and assess whether it's worth pursuing.
Economic buyer: Focus on meeting and qualifying the buyer in charge of the purchase.
Decision criteria: Discover what criteria the buyer is using to make a decision.
Decision process: Discover what process the buyer typically follows to make a decision.
Identify pain: Discover why the buyer needs your solution.
Champion: Find at least one person in the buyer's organization willing to advocate for your solution.
The Sales MEDDIC Group can facilitate a workshop if you'd like to learn more.
Sandler
The Sandler sales method shifts the traditional definition of a sales reps to more of an advisor role—someone just as invested as the buyer in seeing the purchased solution succeed. Sandler's sales training program coaches on 49 rules to improve sales productivity. The program breaks selling into three stages:
Build & sustain a relationship: The seller connects and communicates with the buyer and establishes control of the selling process by setting ground rules about the purchase progression.
Qualify the opportunity: Focus on the buyer's pain, budget and decision to assess whether the opportunity is a good fit.
Close the sale: Focus on the objective, fulfillment and post-sell—allocate your selling resources to buyers who can agree to a buying decision and then narrow in on the areas needed to close.
Visit Sandler's website to learn more.
Richardson
Richardson offers multiple sales methodologies that are structured around these selling components:
Stages and high value activities: the actions sales reps need to take in order to win deals.
Deeper level of dialogue: the conversations that shift away from product features toward overall business value.
Practical tools: the tools that sales reps use to plan out opportunities and communicate with buyers.
Verifiable outcomes: the signals sales reps use to assess whether their buyer is engaged and ready to move on to the next stage of their buying journey.
Learn about their sales training process here.
The ValueSelling Framework
This framework offers sales reps a structured approach to focusing on the leads most likely to buy and moving those leads to the closing stage by following these four main steps:
Qualify your prospect: Learn about your buyer and assess whether the deal is worth pursuing.
Ask the right questions: The framework guides sales reps in the questions that will be most effective.
Develop the value: Communicate to your buyer why your product offers the most value.
Craft a mutual plan: Collaborate with your buyer on a clearly established plan that works for both sides.
Find out more on their website.
CustomerCentric Selling
CustomerCentric selling promotes a (you guessed it) customer-focused approach. Instead of the usual processes such as making presentations, convincing your buyer, offering opinions, and so forth, CustomerCentric selling supplies 8 new tenants:
Converse situationally, ask relevant questions, focus on solution, target businesspeople, relate product usage, compete to win, close on the buyer's time frame, and empower buyers.
Marketo has uploaded the second edition of the CustomerCentric Selling book here.
Next Steps
Businesses use sales methodologies in order to make selling easier. They add structure and guidance to the sales process, enabling sales reps to do their jobs more efficiently and effectively. If your methodology isn't making selling easier, it's time to reevaluate. If you'd like more guidance on choosing the right sales methodology, contact one of our sales enablement consultants today.