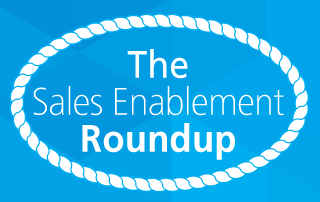 Greg Richards
Sales Enablement Roundup: June's Best Articles
We've scoured the internet over the past month and put together the articles and blog posts on sales enablement you definitely will want to read:
Written by Juli Durante, Smartbug Media
Marketer Juli Durante is laying down some truth in her latest blog post: "Every Key Decision Maker in the Organization Is Involved in Sales Enablement Strategy." For those of you who have been treating sales enablement as a purely sales or marketing venture, you should read this article on why setting the strategy requires buy-in and input from every decision maker at your business.
Written by Ralph Grimse, ATD Sales Enablement Blog
The sports analogy is a strong one when it comes to sales training (and with good reason—just check out one of our most recent blog posts). The analogy definitely works for Ralph Grimse, who explores the science behind turning average performers into exceptional ones. It's good, bite-sized advice that Grimse uses as an intro to their upcoming webinar.
Written by Jim Fowler, Harvard Business Review
Entering data into CRM: nobody likes doing it, and let's face it, we're pretty bad at it. The vast majority of B2B sales teams operate using CRMs that are inaccurate and incomplete. Fowler goes beyond simply identifying that there is a problem—he offers a solution (and no, we're not talking about automatic CRM data entry). Read this article to learn how to establish a data backbone for your CRM.
Written by Richard Adhikari, CRMBuyer
If you've been bitten by the sales technology bug, you're not alone. According to a recent survey, more than 80 percent of high-growth sales organizations use at least five sales technologies, with an average of 10 different sales tools per organization. Click to read a summary of the findings, which include a glimpse into which technologies businesses deem most important and which they are planning on investing in next.
Written by JOSIC Media, JOSIC.com
Life as a content marketer can be tough, especially after the well of great content topics has run dry. With so much content readily available to consumers, how do you continue to produce relevant, informative, and useful materials? If you've found yourself asking that question, this article can be a helpful guide for approaching content marketing more strategically.
Did we miss any great sales enablement articles for the month of June? Let us know in the comments!