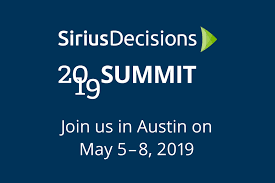 Greg Richards
The Rundown: Why You Should Attend SiriusDecisions Summit 2019
Every May #SDSummit sweeps sales enablement internet channels and conversations. So what is it? How will it help your business and why should you physically go?  We've put together this blog to help you evaluate whether you should attend.
What is it?
SiriusDecisions Summit is four full days of data-driven best practice research for B-to-B sales organizations. The event consists of a series of keynote sessions, peer success stories and marketplace gatherings with technology providers, research analysts, service consultants and other event sponsors. Additionally, many organizations use this event as a platform to make big announcements, unveil new innovations and showcase new product launches.
What will I do there?
As an attendee, you'll have access to sessions that are directly applicable to improving operational processes and driving revenue in the year ahead. You'll meet and network with an elite community of sales, marketing and product leaders that can counsel to your business goals and challenges. You'll also have access to explore solution demonstrations in the marketplace, to attend customer case studies presentations and to book 1-on-1 meetings with sponsors and solution providers.
See also: "Experience Austin with Accent" our exclusive sales enablement dinner
See also: Accent's client case study presentation by Synchronoss
What is the Focus of this year's Summit?

The theme Summit this year is TOGETHER: Achieving High Performance by Aligning the B2B Revenue Engine. 
SiriusDecisions and Forrester said attendees will get a first look at what the next 3-5 years will bring to your discipline. There will be role-based "future vision sessions" and they've added more main stage track sessions and peer success stories.
Keynotes will focus around building a customer-obsessed revenue engine featuring both Forrester and SiriusDecisions primary research.
How will my attendance benefit my company?
As a Summit attendee, you'll learn techniques, ideas and success stories from your peers that can be applied to your business efforts to benefit your company. You'll get face-to-face interaction with technology providers and see tangible demonstrations of how new innovations support unique business goals.
You'll leave Summit with a better understanding of how to implement, operationalize and justify your organization's marketing initiatives with the confidence that the information you've gathered is from proven, fact-based operational intelligence.
Attendees will also develop contacts with marketing experts and gain knowledge to drive more leads, improve lead conversion and align sales with marketing. This will pay off in streamlined practices, proven solutions and a new network of peers to call upon for ideas or problem solving.
What does Sirius have to say about the event?
Megan Heuer, Vice President of Research, says that many sales and marketing leaders leverage summit as a "Crystal Ball" into the future of where the industry is going.
Attending summit will help you prepare your team for what's coming, think about what you've done so far and learn what you can be doing now to pave the way for what the future holds.
But Heuer says it's not all about future vision. SiriusDecisions has also invested in sessions that will help explain what "good performance" looks like today. They've dug into their immense "treasure trove" of research to come up with the numbers leaders need to know within their discipline area (such as performance, investment and the practices that make high performance possible).
"You're going to walk away with not just a view of what to do in the future, but the roadmap of what it means to be there now, and what it's going to take to get there as you proceed on that journey."
Check out SiriusDecisions resource page Why Attend SiriusDecisions Summit to justify your trip or to download their justification letter to your organization.
Accent Technologies will be exhibiting Summit 2019 as a gold sponsor. Check out our news post for the full details of our participation. And don't forget to ask us for an invitation to our exclusive sales enablement dinner experience where we're bringing authentic Austin culture to Summit!