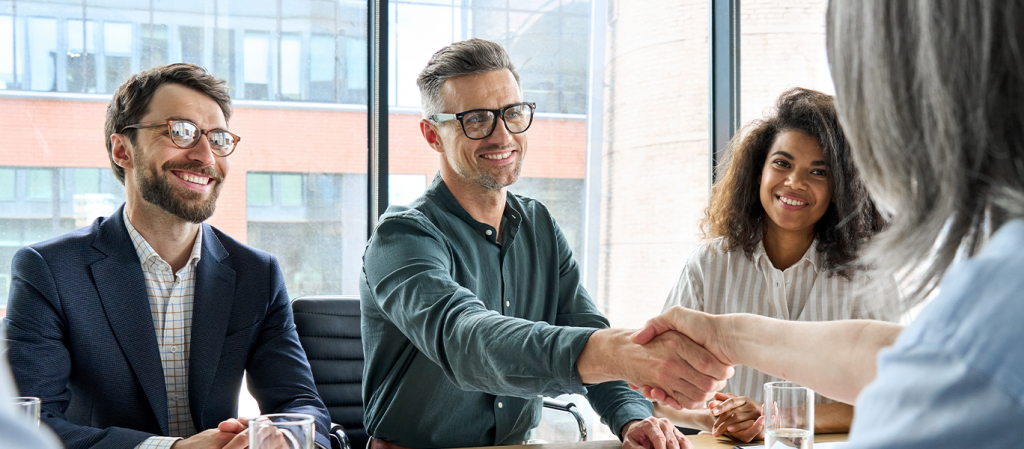 Accent Technologies
"Sense Making Sales": Why it's your best shot to differentiate
How buyer behaviors have changed and what to do about it
According to LinkedIn's 2020 State of Sales report, an average of 76% of B2B sales teams credit technology with helping them close deals.  
Following COVID-19, technology in the B2B landscape has been adopted even faster than expected. 
The rapid expansion of sales software and technology has completely altered the B2B selling process.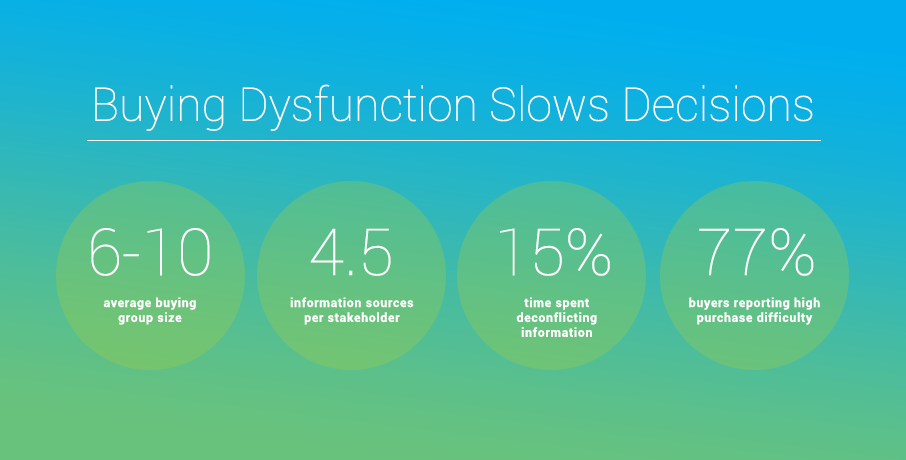 Yes, that's a mouthful. But it's important data for the future of B2B sales. Let's dive a little deeper.  
What Drives This New Buyer Behavior?
The B2B market has become more complex as a result of digital transformation. Buyers today have an abundance of riches when it comes to brand content. Perhaps, the issue is that they have access to too much content. 
The main challenge is that buyers must sift through a lot of information (corporate blogs, analyst reports, email marketing, display advertising, white papers, infographics, word-of-mouth recommendations) before making a decision.  
While all of this is beneficial to their learning about your products or services, it is detrimental to the alignment and consensus of effective sales tactics.  
Information overload makes it even more difficult for buyers to make a purchase decision. Gartner reports more than half of B2B buyers use the word "overwhelming" to describe the amount of information they get from reliable sources when trying to make a decision. 
According to the same report, 44 percent of customers believe that even when they trust the sources, the information they get is often contradictory. As a result, their decision-making process is stalled. 
This buying environment puts a lot of pressure on you to change the sales method you use to influence customer purchases. Remember, the goal is to implement the most effective sales strategy, mainly because customers do so much of their own learning.
In light of this, Gartner advises you to shift your focus from "Storytelling" to "Sense Making" sales methods.  
What is Sense Making Sales?  
The Sense Making Sales technique, according to Gartner research, is a B2B selling method based on specific buyer behavioral trends. 
To implement Sense Making Sales successfully, you must first determine your customers' information needs at each stage of the buyer journey. 
Then, at each sales touchpoint, design your selling processes to provide buyers with extremely streamlined tools and resources, as well as boost their confidence in their ability to make a quick purchase decision. 
This means you'll have to spend more time simplifying every piece of information that goes out at each sales touchpoint. It is important to note, however, that the real trick to Sense Making Sales is to craft content as a guiding hand — one that both adds value and leads prospects further down the funnel.  
Yes, you are collaborating with your customers on their learning and assisting them in evaluating the quality of information they receive. But they must still arrive at each decision with complete confidence. 
How is Sense Making Sales Different from Sales Storytelling?
Sales storytelling is the practice of telling compelling stories that highlight the benefits of a service or product to a buyer.  
In other words, this approach focuses on insightful thought leadership. The problem with this is that the customer journey is not linear–and never has been. Determining where your buyer is in their journey has become more complex because more buyers are involved, making it difficult to effectively deploy sales storytelling. 
As a result, using storytelling as a differentiating sales tactic is no longer the silver bullet it once was. 
Using Sense Making Sales, your sales tactics are designed to be adaptable, to switch between channels, to indicate buyer progress, and to ultimately guide your customers towards "buying job completion." 
The results show that selling teams that take on the role of "sense maker" to assist buyers in their buying jobs serve as credible references during the education stage of the buyer's journey. 
In other words, when you act as a guide — someone who simply wants to make prospects' jobs and lives easier — as opposed to just a storyteller, the data indicates you'll have more success. 
Enter your information to replay our client webinar with DHL on how they're leveraging Accent's Sales Enablement Platform to apply sense-making selling methods and create better buying experiences differentiate in the competitive logistics market.
Tools to Help You Improve the Buyer Experience
Gartner estimates that "by 2025, 80% of B2B sales interactions between suppliers and buyers will occur in digital channels." 
In this context, they recommend a hyper-automated approach to your sales process that prioritizes "digital first."  
We see this with more and more software companies moving to a completely automated sales process — no human interaction needed. 
Any human interaction that does occur utilizes sense-making sales techniques to help guide the prospect to a solution. The research says this will lead to more seamless, effortless, and highly targeted engagement points.
As a result, the future of your company's sales would be dependent on its "constant transformation of strategies, processes, and resource allocation." 
To carry out the described dynamic and automated sales process, you will need to rely heavily on certain tools and resources. They are divided into four categories: 
1. Sales Enablement Tools 
Conventional B2B sales enablement tools have their roots in content management. However, thanks to a shift in buyer behavior, the sales enablement tools you require must be capable of doing more than simply housing the assets and information you need to sell effectively. 
This is especially important in B2B environments because the sales cycle has become more complex, and there is so much more at stake. 
As a result, the right sales enablement tool should provide predictive, AI-powered recommendations on sales content.  
Further, a good platform will save your sales team time and effort on non-selling tasks, such as automating your sales management processes, providing continuous development and training, and so on. 
Play for a sneak peak at how Accent's AI delivers precise content recommendations to sellers. 
2. Sales Engagement Tools 
As a result of advancing social and mobile technologies, customers in the new technology-driven world of B2B are now in control of their own experience with your brand. 
Sales engagement tools are intended to assist you in developing and implementing sales processes and touchpoints. These points of contact should be flexible and adjusted to suit the ever-changing behavior of buyers (or buyers across different verticals). 
3. Guided Selling Tools
Guided Selling Tools assist you in breaking down a complex idea, allowing your customers to learn more about your service or product. In this category, video is a top contender for best-in-class. 
Here is a statistic to back up this claim. According to survey results, 86 percent of businesses used video as part of their marketing strategy in 2021. As audiences consume more video online, video marketing will be even more popular in 2022.  
This tool's widespread use in sales is due to the fact that video marketing is an easy-to-integrate, accessible, and powerful guided selling tool that can be used across multiple sales channels. 
4. Sales AI Assistants and Analytics 
All of the evidence suggests that your prospects will conduct online searches to find and evaluate potential vendors. This means they're constantly engaged across multiple digital touchpoints. 
If you don't engage them as soon as they interact with any of your sales milestones, you'll miss out on business opportunities. Fortunately, you can deploy sales AI assistants (AI and automation tools) around the clock to provide curated information to your buyers and serve them faster and more effectively.
AI assistants aid in creating more personalized touchpoints that deliver enhanced and consistent customer experiences. They are becoming increasingly powerful tools in Sense Making Sales across all channels — SEO, content curation and recommendations, chatbots, ad targeting, email automation, and more. 
Watch this video to meet your sellers new favorite AI assistant, and see what it can do for them.
Last Words 
Your best chance of differentiating your brand is to bring your focus back to buyer experience. This is best accomplished by thoroughly measuring, reviewing, and optimizing customers' authentic buying journey. 
Accent Technologies is the go-to solution for creating "seamless, effortless, and highly-targeted engagement points" for your company.  
We can also assist your company in: 
Automating customer responses

 

Offering personalized suggestions 

 

Measuring account health and parsing out next steps to close deals

 
Accent Technologies is the first and only SaaS company to bring together Sales AI and Content Management in a true Revenue Enablement Platform. We provide both sales and marketing with better visibility into the performance of their teams. 
This drives revenue through intelligent recommendations for complex sales scenarios and provides the data for rich analytics that power better coaching, forecasting, and long-term customer support. Learn more about our solutions or request a live demo to see it in action. 
Subscribe to Accent's Blog
Get Accent's latest sales enablement articles straight to your inbox.