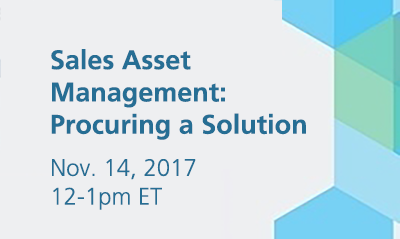 Greg Richards
Learn how to select the right SAM solution in a saturated market
Purchasing a sales enablement solution is a big decision that can impact the success of your business for years to come. With so many different sales enablement vendors out there, how can you tell which one is right for your company? It's often not a black and white answer, but there are some steps you can take to evaluate each solution and narrow down the options.
Are you a sales leader looking to learn how to select the right sales asset management solution in a saturated market?
For sales enablement teams who are still requiring reps to look for buyer-facing content and educational materials, the promise of activity-based sales enablement often leads them to a sales asset management solution. With a highly complex and confusing landscape of sales enablement software providers, how can anyone understand how to make the right purchase?
Attend our November webinar Sales Asset Management: Procuring a Solution featuring Peter Ostrow from SiriusDecisions to learn what you should expect from top-quality solutions.
What you will walk away with:
A step-by-step approach to managing a SAM initiative, from controlling internal politics to constructing an RFP document and scoring mechanisms
Deployment guidance designed to launch a successful pilot and full SAM roll-out
Insight into new SiriusDecisions research on best-of-breed SAM practices
**Register today and get 58 Critical Questions to Ask During a Sales Enablement RFP for FREE complete with a workable RPF template!