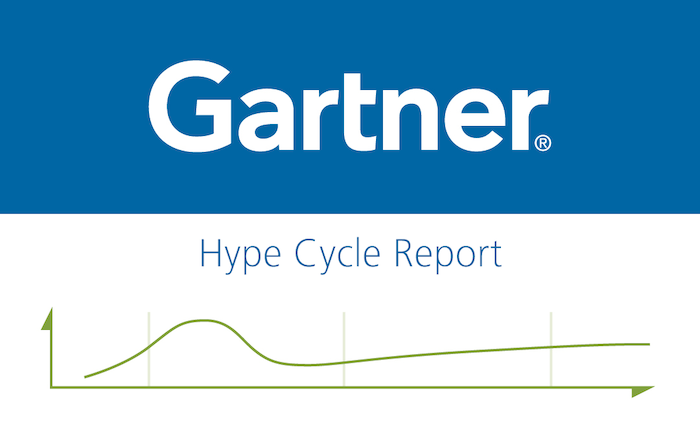 Greg Richards
Why Sales Leaders Should Adopt a Sales Enablement Platform, According to Gartner
Gartner, the world's leading research and advisory firm, recently recognized Accent Technologies as a sample vendor for several categories: Sales-Enablement Platforms, Algorithmic Guided Selling, Sales Analytics and Digital Content Management for Sales.
This recognition was published in their white paper, Hype Cycle for CRM Sales. If you're a sales leader, we encourage you to read the white paper in its entirety. In this post, we'll highlight Gartner's main takeaways regarding what you need to know about the sales-enablement Hype Cycle.
First and foremost, Gartner encourages sales leaders to evaluate and consider using sales-enablement platforms. They hold to this advice "even if this technology overlaps and conflicts with existing SFA [sales force automation] and CRM technology investments, because it supports effectiveness objectives." 
How does sales enablement support a sales organization's effectiveness objectives? Where does sales enablement stand in Gartner's Hype Cycle? We'll answer these questions. But first, some background into Hype Cycles.
What exactly is a Hype Cycle?
Developed by Gartner, Hype Cycles track the rising, falling and plateauing of the usage for specific technologies. As the below graph shows:
Most new technologies begin with a "technology trigger"
The technology's adoption and usage rises dramatically to a "peak of inflated expectations"
Next, the overly-inflated (or hyped) rate of usage falls into a "trough of disillusionment"
Usage then grows upward into a "slope of enlightenment"
Finally, the use of the technology levels off into a sustainable "plateau of productivity"
By Jeremy Kemp at English Wikipedia, CC BY-SA 3.0
Why are Hype Cycles Useful?
Hype cycles help business and sales leaders weigh the risks and benefits of becoming early adopters of a new technology. Risk-averse companies often wait until a technology is mainstream before adopting it (i.e., they wait until it's closer to the Plateau of Productivity). Waiting until a technology is mainstream can avoid certain risk factors, but there's a tradeoff: companies who wait often forfeit competitive benefits achieved by companies who become early adopters.
How does Gartner Define Sales Enablement?
The white paper defines sales enablement platforms as "sales tools that unite disparate sales operations and customer-facing sales processes." Gartner lists sales-enablement capabilities such as:
Where is Sales Enablement's Current Position in the Hype Cycle?
According to the Hype Cycle for CRM Sales white paper, sales enablement is an "emerging" category that's still in the beginning upward slope of the Hype Cycle. This "emerging" status is no surprise considering sales enablement only began as a category in 2016.
Market penetration for sales enablement is only 1% to 5% of the target audience, according to Gartner. This current low adoption and lack of awareness provides a wide window of opportunity for knowledgeable sales organizations to become early adopters of sales-enablement technology.
What is Gartner's Advice Regarding the Adoption of Sales Enablement?
 As we mentioned, Gartner advises application leaders who want to improve sales effectiveness to consider sales-enablement platforms. It's Gartner's estimation that SFA (sales force automation) systems don't provide effective customer engagement capabilities. To quote the white paper,
"Given that it will be some time before the leading SFA vendors deploy [sales enablement] technology, application leaders looking for rapid improvements in sales execution should evaluate this technology."
Why is Sales Enablement So Important?
At Accent Technologies, our industry definition of sales enablement is "the act of implementing strategies, tools and processes that continually increase the efficiency and effectiveness of your sales ecosystem."
Stated simply, the right sales-enablement technology and strategies can boost the effectiveness of your entire sales ecosystem. In fact, research by Aberdeen has shown that 84% of sales reps at companies with best-in-class sales enablement strategies achieve their quotas.
Although the following isn't a complete list of features, here are a few key ways sales-enablement technology improves sales performance:
Complete visibility. When a company has no idea how its salespeople are spending their time, there's no way for that company to improve its sales processes or train their reps for better performance. The best sales-enablement platforms give sales leaders total visibility into their reps' daily activities. Sales leaders can track all interactions between salespeople and buyers, learn how prospects are responding to different pieces of content and discover how skilled each rep is at closing deals.
Increased selling time. With AI-assisted content management technologies, reps spend far less time looking for the right content to share with their buyers. And through CRM automation tools, reps no longer need to worry about tedious, time consuming data-entry work. These time savings mean reps can focus all their time and efforts on closing more deals.
Better training and coaching. Chances are, your sales team consists of reps with differing competency levels and various selling backgrounds. They don't always know the optimal selling approach for every buyer and circumstance in your industry. A good sales enablement platform can provide training and coaching tools that strengthen the performance of every rep on your team. The best platforms even tailor the training to the needs of each sales rep.
Sales and Marketing Alignment. It's no secret that when sales and marketing work together, buyers are happier and more deals are closed. But aligning these two departments is easier said than done. An advanced sales enablement platform can be an effective unifier of sales and marketing by providing:
A centralized content library that provides easy access to updated versions of all sales and marketing content
Collaboration tools giving salespeople and marketers the ability to work together for better results
Customization tools that enable reps to quickly personalize any piece of content marketing gives them
Content tracking that allows both salespeople and marketers to see which materials are working and which ones need improvement
The best sales-enablement platforms offer much more than what we've mentioned in this post, including algorithmic guided selling and sales analytics. But we'll discuss those tools in separate posts. Until then, we encourage you to download and read the white paper.
Subscribe to Accent's Blog
Get Accent's latest sales enablement articles straight to your inbox.