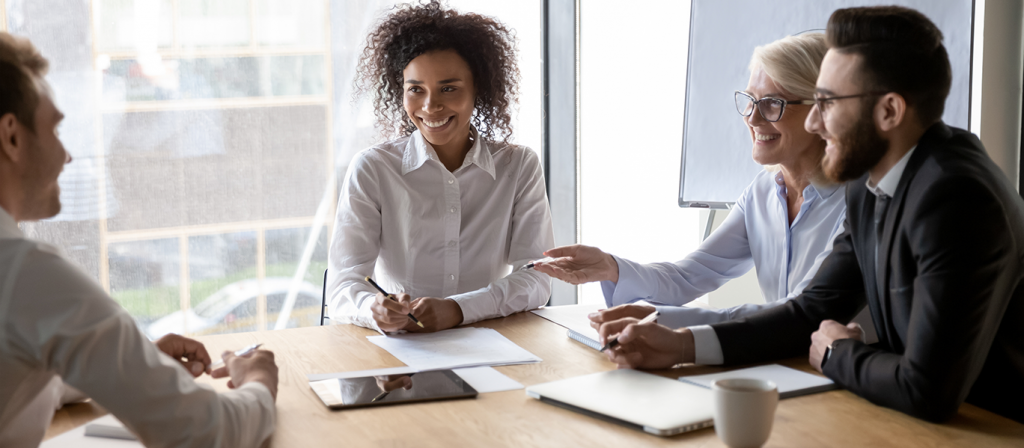 Accent Technologies
How To Create A Sales Enablement Content Strategy
Learn how to create a winning sales enablement content strategy.
While no one will deny that Marketing and Sales are two fields overflowing with buzzwords and jargon, it would be a mistake to dismiss the term Sales Enablement as just another new name for an old thing. If you're not developing a sales enablement content strategy, you're leaving money on the table.
Don't lose potential sales and growth because you're not sure how to implement a sales enablement strategy. Let us help.
What is Sales Enablement?
Before we can talk nuts and bolts, let's first take a moment to discuss what sales enablement is and how it can benefit your company.
Simply put, sales enablement is a process for providing your sales team with all the materials they need to sell more efficiently and effectively. This can be anything from information, to content, to a variety of other tools. The primary goal of sales enablement is helping your sales team close more deals.
Of course, there's more to it than that. The content you create for your sales team not only helps them become better brand ambassadors for your products by making them more familiar with features and benefits, it also benefits your customers as well.
According to this data, 95% of buyers choose a solution provider who provided "ample content to help navigate through each step of the sales process." 
Is your current sales enablement content strategy addressing the issues your customers are facing? According to research, for many companies the answer is no.
Even if you do have a sales enablement program in place – are you doing enough?
Why You Need a Sales Enablement Content Strategy
If we've learned anything in the age of content marketing, it's that simply creating content doesn't cut it. Without a roadmap and a fluid content strategy, most content marketing initiatives are doomed to fail before they launch.
Companies spend untold hours creating blog posts, landing pages, and white papers – content aimed at customers on the buyer's journey – but few spend any time at all creating materials for their sales department.  This is a huge missed opportunity.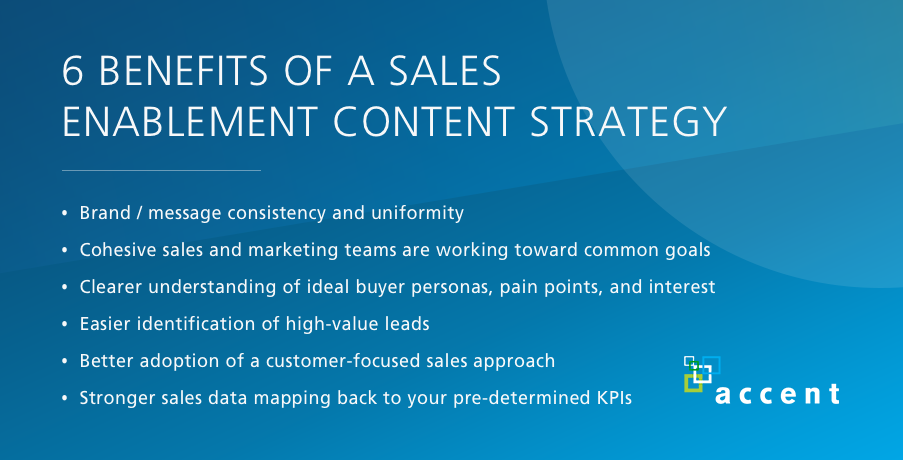 Here are several benefits gained by taking the time to create a sales enablement content strategy:
Brand / message consistency and uniformity
Cohesive sales and marketing teams are working toward common goals
Clearer understanding of ideal buyer personas, pain points, and interest
Easier identification of high-value leads
Better adoption of a customer-focused sales approach
Stronger sales data mapping back to your pre-determined KPIs
These are just some of ways a sales enablement strategy can help your team improve performance. As we drill down deeper, the benefits only increase.
Simply implementing a sales enablement program isn't enough – without a strategy, you're creating content with no end goal in mind. It's like shooting into the ocean – it's a waste of your ammunition (which, in this case, is your content).
What Content Does a Sales Enablement Program Need?
Now that we have a sales enablement definition, an understanding of how it can benefit your company, and why a strategy is important, it's time to talk about the content you'll need to create.
There's no one-size-fits-all answer when it comes to sales enablement assets, but at the macro level it probably resembles your content marketing initiatives in some key ways.
White papers, informative blog posts, customer testimonials, fact sheets, customer avatars, and infographics are all foundational materials to get started with. But you can dig deeper to customize your sales enablement strategy and achieve even better results by implementing the following types of content.
• Sales scripts
No, not that classic scene from Glengarry Glen Ross (always be closing!). But instead, structured lists of talking points for sales professionals to use with clients who are in the final stages of the customer journey. Created in alignment with other product materials, these can be the difference between your sales team member closing the deal or losing the sale.
• Onboarding materials
Most content teams think of marketing materials as things used to help turn leads into sales. A good sales enablement program will also craft content to help onboard new sales professionals. Creating this type of content can increase the rate at which new hires are brought up to speed – helping them understand products, company philosophy, and how to interact with customers. Don't miss out on this often-overlooked content opportunity!
• One-Pagers
Not every piece of content needs to be the size of an e-book, whitepaper, or blog post. Sometimes, simpler is better, and that's where the one-pager comes in. These single- page pieces of content can be created for any number of topics – from distilling the features and benefits of products down to their simplest terms, to explaining how to get past a common pain point. As a bonus, don't just think of the one-pager as an in-house document. Use them to help customers along the path to purchasing when applicable.
• Social Media
If you're not on social media in 2020, you're missing out on a prime opportunity to connect with your customers. While most marketing departments have a dedicated social media manager, that doesn't mean that your sales enablement team can't get in on the action. Keeping relevant social media posts accessible to the sales staff allows them to share with customers when they're trying to make a decision. Content for a sales enablement program can be custom-tailored to fit your specific needs, but the above options are an excellent starting point. Schedule a meeting with your marketing and sales departments and start brainstorming how your content programs can better help everyone.
Planning Your Sales Enablement Content
If you find yourself at this point of the article thinking, "this sounds like a lot of additional content creation…" don't fret. Implementing sales enablement for your company doesn't have to be a nightmare.
Creating new materials for your sales enablement content strategy doesn't require building an entirely new department (although more and more companies are doing just that – more on that later), but rather leveraging your existing content marketing program.
One of the biggest benefits of a sales enablement program is that it allows marketing and sales to work in unison to create materials that serve multiple purposes. This synergy also ensures that there's consistency in tone, style, and voice across all the created content, which is useful from a branding standpoint.
For many companies, there's often an urge to 'jump in with both feet" to these new initiatives, but to truly realize the full potential of your sales enablement program, a measured approach is often more effective. Before creating that first piece of essential content, take the time to implement your strategy by doing the following:
• Define Your Goals
A lot of people skip this step – or don't put enough thought into it – and then fail. You wouldn't get in your car without a destination in mind and a plan on how to get there, so why would you wing it with your sales enablement strategy?It's important to consider what a successful sales enablement program looks like for your business and then determine how you measure whether or not you're hitting those targets. What key performance indicators will you be measuring? What are the signs of success? Increasing sales sounds like a great goal but go deeper. How far do you hope to move the needle? Where do you hope to be in six months, a year, and beyond? Knowing these things is key to developing a successful strategy.
• Perform a detailed content audit
Odds are, if you've been utilizing content marketing effectively, you've already created materials that will benefit your sales team. Take this opportunity to catalog what you have and share anything that could actually be useful to your sales team or customers.
• Figure out what's missing
Once your audit is complete, you can now see where the gaps in your content are. Get sales involved – what do they need? What materials could be created that could make their job easier? What are the common customer pain points or frequently asked questions? Once you know what content you need, you can begin to implement it. Whether it's a detailed e-book or just better optimized email templates, this is where your sales enablement content strategy starts to take shape.
• Study the Analytics
With this new content created and out in the world, it's time to gauge how people are responding to it. Would that blog post have worked better as a white paper? Are customers reading your one-pager and still coming back with relevant questions? Are people bouncing from your blog post? This is where we find out – and then figure out why things are or aren't working and adapt.Don't just rely on analytics, though. Be sure to discuss what's working and what isn't with the sales team. They'll likely have valuable anecdotal insights to share that will help shape the direction of things going forward as well.If you've set clearly defined key performance indicators during your planning phase, this part of the process can be very enlightening. Your sales enablement content strategy should be well defined, but also fluid. Here is where you can adjust what isn't working and double down on what is.
Following these steps will not only help you get your sales enablement program up and running but will make it sustainable for the long haul. Once the initial heavy lifting is done, it really just becomes a matter of studying your results and adjusting your strategy as needs develop and evolve.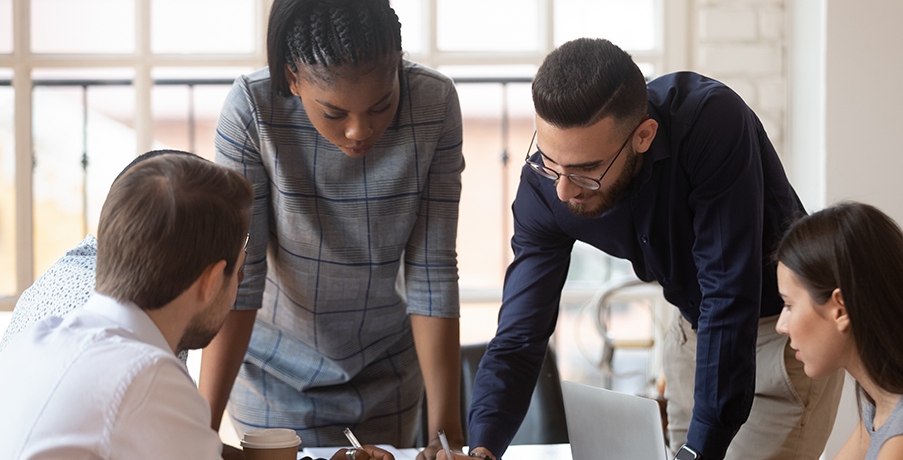 Do I Need a Sales Enablement Team?
At this point, you might find yourself wondering if you need to hire, outsource, or create a whole team dedicated to your sales enablement project. The short answer is…it depends.
For many companies, creating a whole new team is unnecessary. Sales enablement isn't about building something from the ground up as much as it is leveraging your current content marketing to make it more effective.
Because of this, the marketing and sales teams you already have can carry the load of implementing and running your sales enablement content strategy. Think of it not so much as rebuilding the wheel, but more like retreading the tire.
Companies with a well-established content marketing program will find that sales enablement assets fit right in on their current content calendar. There are probably projects your content team is already developing that will align with your sales enablement goals as is or with minor tweaking. There's no need to hire or create a whole new team.
However, if you feel as though there's a genuine benefit to having workers devoted to sales enablement, or you don't have a full-fledged content marketing program in place, here are some key sales enablement positions to consider filling.
• Sales Enablement Manager:
This person could be a content marketing manager or someone else from the marketing department. They're responsible for keeping track of the big picture and keeping the goals of sales and marketing aligned.
• Sales Manager:
It's important to not create content in a vacuum, which is where this team member comes into play. The Sales Manager can serve as a liaison between the salespeople and the rest of the sales enablement team, helping to ensure content serves the needs of the people who are going to use it most.
• Training and Development Coach:
Some companies will skip this position, but that feels like a mistake. Sales enablement content isn't just standard marketing materials, but also includes content designed to help your salespeople be more efficient closers. The Training and Development Coach can provide valuable insight into what things the sales team needs to become better at their jobs.
• Content Creator:
It goes without saying that someone (or several someones if you're really ambitious) will have to create all of this new content. And that's where the Content Creator comes in. If you already have a content marketing program, odds are you have writers, graphic designers, and videographers on staff. If not, you can either hire people to fill the roles or outsource. And while this might be the last person on this list, the Content Creator is arguably the most important team member. Creating content isn't enough – you have to create exceptional content to stand out in today's world. Don't skimp on the Content Creator.
Next Steps
Starting a sales enablement program can feel a bit intimidating, but the rewards are well worth the effort. Every year, companies spend billions of dollars on campaigns designed to acquire new customers, to train new salespeople, and to increase sales figures.
However, a good sales enablement program anchored by a solid content strategy can help you achieve those goals at a fraction of the cost.
Empowering your sales team by providing them with better training and custom-tailored materials designed specifically to address the issues they're encountering in the field can have a significant impact on your bottom line.
And it can help your customers too.
Like Rome, a great sales enablement program isn't built in a day. That being said, the data doesn't lie – companies who spend the time to formulate a clear and concise sales enablement content strategy with buy-in from both marketing and sales can dramatically increase their numbers.
Click below and learn how Accent can help you formulate a sales enablement content strategy that makes your sales team more effective while turning your customers into brand evangelists.
Accent Technologies is the first and only SaaS company to bring together Sales AI and Content Management in a true REVENUE ENABLEMENT PLATFORM. We provide both sales and marketing with better visibility into the performance of their teams, as well as their effectiveness with their customers. Through rich data analysis and intelligent recommendations for complex sales scenarios, the Accent platform empowers sales organizations to provide better coaching, forecasting, a more personalized buying experience, and stronger long-term customer support. Learn more about our solutions or request a LIVE DEMO to see it in action.  
Subscribe to Accent's Blog
Get Accent's latest sales enablement articles straight to your inbox.