Accent Technologies
Sales Funnel Data Visualization Tools
If you've spent any time working in sales, odds are you've heard of the sales funnel. It's one of the most important tools in your sales toolbox, but most companies don't spend as much time building and refining their funnel as they should. This can lead to lost sales and missed revenue opportunities.
A good sales funnel is an ever-evolving thing, constantly changing to meet the needs of your business and your customers. But all great sales funnels have one thing in common: they began with a plan.
Why Sales Funnel Visualization Tools are Important
Now that we know what a sales funnel is, let's talk about why sales funnel visualization is important.
The first, and most obvious, reason is that sales funnel visualization tools prevent your from "flying blind."
The sales funnel is a vital part of your selling process, but a lot of companies create a funnel and then never bother going back to evaluate how it's working. This is a huge mistake.
Funnel visualization tools cannot only help you build your funnel, but will also allow you to examine the structure of a funnel you're already using. This way, you can spot potential bottlenecks or places where customers are dropping out of the process and can then correct them. Without these tools, you could be losing sales and not even realize it.
Beyond that, here are some additional benefits that you'll gain when using funnel visualization tools:
• Identify and Optimize your Lowest Performing Pages
If you have a large ecommerce site, you may have thousands of pages for customers to land on. Naturally, some of these pages will be more effective than others, and funnel mapping and visualization tools can help you spot the ones that are underachieving so you can optimize them for better performance. It can also show you your top performing pages – which you can then use as a model to fix your underachievers.
• Better Understand Traffic Sources
The top of your funnel will be filled with potential leads – and understanding where those leads are coming from can help you improve your efforts so you can find even more customers.
• Will Make Decision-Making Easier
Your sales funnel is full of important data, and using that data can help you make critical decisions from a more informed position.
The challenge of funnel data is that it can be overwhelming. Anyone who's spent an afternoon in Google Analytics can tell you that the sheer amount of numbers and information at your fingertips can be daunting.
However, using data visualization tools can make all these complex numbers and metrics not only easier to understand, but provide context that will help you chart a path forward to success.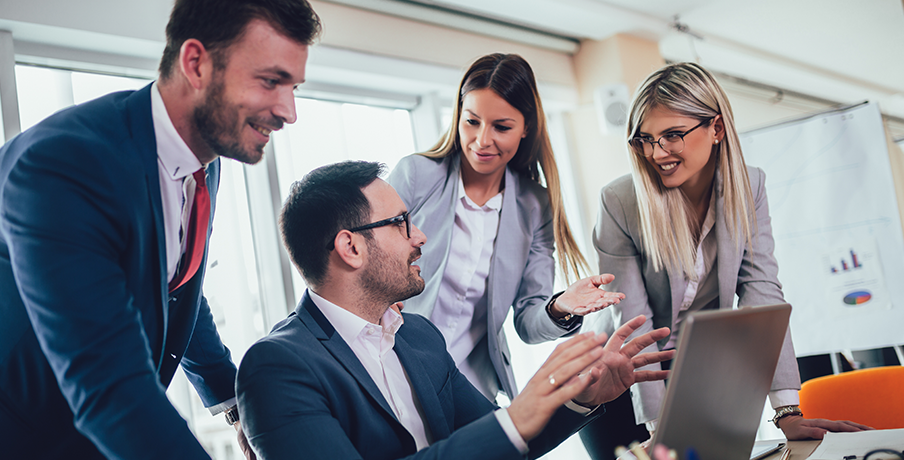 11 Recommended Funnel Visualization Tools
And now we get to the good stuff – 11 funnel visualization tools that will help you gain a better understanding of your sales funnel.
There are a number of options available out there, but these are the 11 we recommend most often, so give them a shot and see what you think. There's guaranteed to be a solution that fits your needs somewhere on this list.
1. Accent Technologies
We kick things off with our very own product, which is a full-featured sales enablement platform that has uses well beyond simply mapping or visualizing your funnel.
Unlike many of the tools on this list, Accent's sales enablement software is particularly useful at the middle and bottom stages of your sales funnel. This is because the complex sales AI the software uses is great at making suggestions based on all the data the software tracks.
For example, collecting things like seller data, content effectiveness data, and other key metrics allows you get a much bigger picture of how to better reach your customers as they move towards the bottom of the funnel. The Artificial Intelligence will learn what works best in each situation, then offer actionable solutions with the best chance of success.
2. Google Drawings
This free service from Google won't give you analytics or deep insights into why your sales funnel is or isn't working, but if you're in the planning stages and want to create a visual representation of your buyer's journey, this tool will help you get the job done.
As such, Google Drawings is more oriented towards the top of the funnel – but if you're trying to create a roadmap of what should be happening at each stage for your more visual team members, this software can help.
3. ClickFunnels
If you're new to the sales funnel game, then ClickFunnels will help you get started without breaking the bank or confusing you with a bunch of technical jargon.
This popular tool is perfect for funnel newbies because it offers up a wide range of features that will help you build your funnel from scratch. It's entirely possible to simply click, copy, and paste an existing funnel from one of the many templates the service offers, or build one of your own from the ground up.
The program also comes with a landing page builder, marketing automation tools, a smart shopping cart tool, and has a two week free trial with plans starting at $97 a month.
4. MindMeister
This web-based tool can be accessed from your browser, eliminating the need to purchase, download, install, or update software – making it a great solution for smaller companies.
MindMeister isn't solely a marketing or sales tool, but is instead billed as a "mind mapping tool."
Like Google Drawing mentioned earlier, this is great for companies brainstorming their sales funnel prior to implementation, but it can also be useful as a visual aid if your funnel is already up and running.
Beyond being cloud-based, you can also share projects with others, create presentations, and share on social media.
Your first three maps are free, then you can continue to use MindMeister for €4.99 per month.
5. Funnelytics
Funnelytics has been hailed as one of the best sales funnel mapping and visualization tools around, and we're inclined to agree.
Unlike some of the other things we've mentioned in this list, Funnelytics is 100% designed for building sales funnels. As such, it has extra functionality you're not likely to find in products like MindMeister.
So, what does Funnelytics bring to the table? How about visualization tools with tracking, an easy to use drag and drop builder, plus a suite of optimization tools – and that's just for starters.
Beyond that, you'll be able to see results, create reports, and track your goals.
Funnelytics is basically a one-stop sales funnel shop.
The base version of the program is free, while the Marketer level plan is $49 a month. Pro will set you back $790 a year.
6. Geru
Geru is another piece of software that will allow you to make visual diagrams of your sales funnel from scratch.
Boasting a wide range of pre-made funnels, Geru gives you the option of simply selecting a funnel that works for you and getting started from there.
For the more adventurous, you can build your own funnel from the ground up, complete with every possible data point you could ever want.
Beyond that, Geru will help you calculate the potential value of your funnel, provide detailed reports, and features another easy to use drag and drop builder.
Pricing for Geru is reasonable. The base price is $37 a month. $79 gets you the Pro plan. Enterprise pricing is available upon request.
Subscribe to Accent's Blog
Get Accent's latest sales enablement articles straight to your inbox.
7. Marketplan.io
If you're looking to map and visualize your marketing as well as your sales, then Marketplan is worthy of your consideration.
This tool will provide you with an overview of your funnel, allowing you to manage, project, and track your visitors, leads, and sales from start to finish.
Features include a blog planner, keyword planner, ad and chat app management, and more.
If that sounds like something that could make your life easier, you can get the Solo Free Forever Plan for free (go figure). The Basic Plan is $19 a month. Pro will set you back $97 per month, and if you need an agency plan, it's priced at $297 per month.
8. Sketch Funnel
If you're concerned that Funnelytics and Geru have more features than you need or might be a little too complicated, Sketch Funnel could be a better option.
This app offers up the same basic funnel visualization tools of Funnelyics and Geru, but without all the bells, whistles, and potentially intimidating extras.
What will you get with Sketch Funnel? How about a drag and drop visual editor, the ability to print and share your funnel diagram and create reusable templates?
If that sounds like it could fit your needs, you can try Sketch Funnel free for one month. After that, it's $79 a year.
9. Funnel Flows
If you're still in the funnel planning stages, Funnel Flows is another tool that can help you conceptualize what your sales funnel should look like before you actually make it a reality.
Like Sketch Funnel, Funnel Flows offers up everything you need to get started mapping out your sales funnel, but it's not as complex as Funnelytics or Geru.
Here's what you'll get for $19 a month: a funnel mapping editor, unlimited projects, and pre-made templates if you don't want to build your funnel from scratch.
10. Lucidchart
Lucidchart is another mapping tool that isn't designed solely for creating sales funnels, but offers enough functionality that it can help you get the process of creating a sales funnel started.
You'll be able to create professional looking flow charts, diagrams, and more with this software, which also offers up hundreds of templates to either get you started or to inspire you as you begin to create your own unique project.
Lucidchart offers a free version as well as a package at $4.95 per month.
11. Sketchboard.io
Sketchboard, as the name implies, is first and foremost a diagramming tool – but that makes it great for companies looking for options when it comes to visualizing their sales funnel.
You can start by choosing from over 400 sketch shapes, but if you're truly artistic, the app allows for freehand drawing as well. With real-time sharing, the ability to leave comments, daily backups, and integrations with Github, Slack, Google Chat, and Flow Dock, Sketchboard might be the right fit for you.
There's a free plan available, as well as a Starter Plan that's $14 a month for up to three users.
Final Thoughts
The sales funnel is one of the most valuable resources for your sales team, and yet, most companies create one then just assume that's the end of the process. Others are even worse off, never creating one at all.
If either of those things sound like your company, the good news is that it's easier than ever to get a sales funnel up and running – or to improve it.
Sales data visualization tools will give you a bird's eye view of your sales funnel, while also allowing you to drill down to a granular level so you have a full understanding of what's working and what isn't.
As we've pointed out in this article, you have a wide range of options available to help you visualize a brand new sales funnel from the ground up, or simply revitalize the one you're already using.
No matter what your needs or budget are, one of these 11 tools is guaranteed to help you make your funnel better, more efficient, and more profitable.
Want to learn more about sales enablement? Then be sure to subscribe to our blog so you don't miss our latest posts!
Accent Technologies is the first and only SaaS company to bring together Sales AI and Content Management in a true Revenue Enablement Platform. We provide both sales and marketing with better visibility into the performance of their teams. This drives revenue through intelligent recommendations for complex sales scenarios and provides the data for rich analytics that power better coaching, forecasting, and long-term customer support. Learn more about our solutions or request a live demo to see it in action.